I've finished my raccoon drawing! The original raccoon painting is sold but if you'd like a fine art print, raccoon mug, or Raccoon Washi it's all available! This poster is part of my collection of animal pattern collection. These animal filled illustrations are happening regularly in my portfolio and my shop, they are very relaxing to make. By the way, I painted custom cat portraits on this theme lately. But back to our raccoon drawing!
Raccoon Drawing
Firstly, I started with a rough drawing! A rough or a sketch is a quickly penciled drawing that will help me have a general idea of my piece. I love interaction between the animals and giving them kind of a rhythm. In my grid, I sketched 70 raccoons plus a few more baby raccoons. I added some cute references along the way, including Sly Raccoon, a Totoro raccoon, and a few other Easter eggs. I'll let you look for them!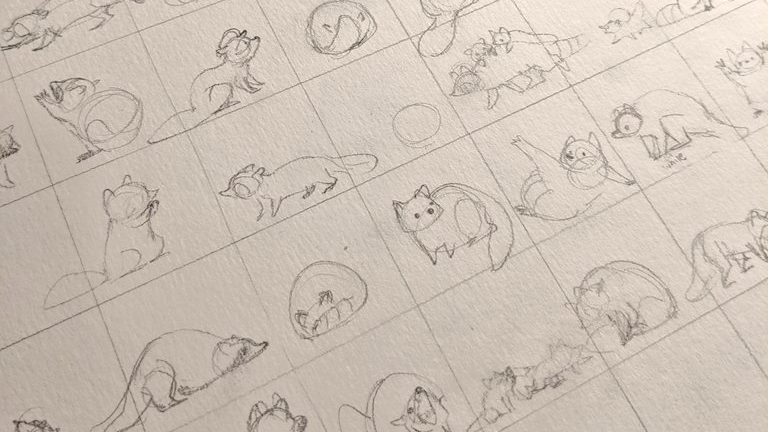 Inking Raccoons
For inking I use a nib and brown, waterproof archival ink. This allows me to work on my watercolor without risk of smudging afterwards. Inking is a definitive process, it takes focus. Once there's ink on the paper, it's very hard to remove, by design. A lot of care goes into this step of the raccoon drawing.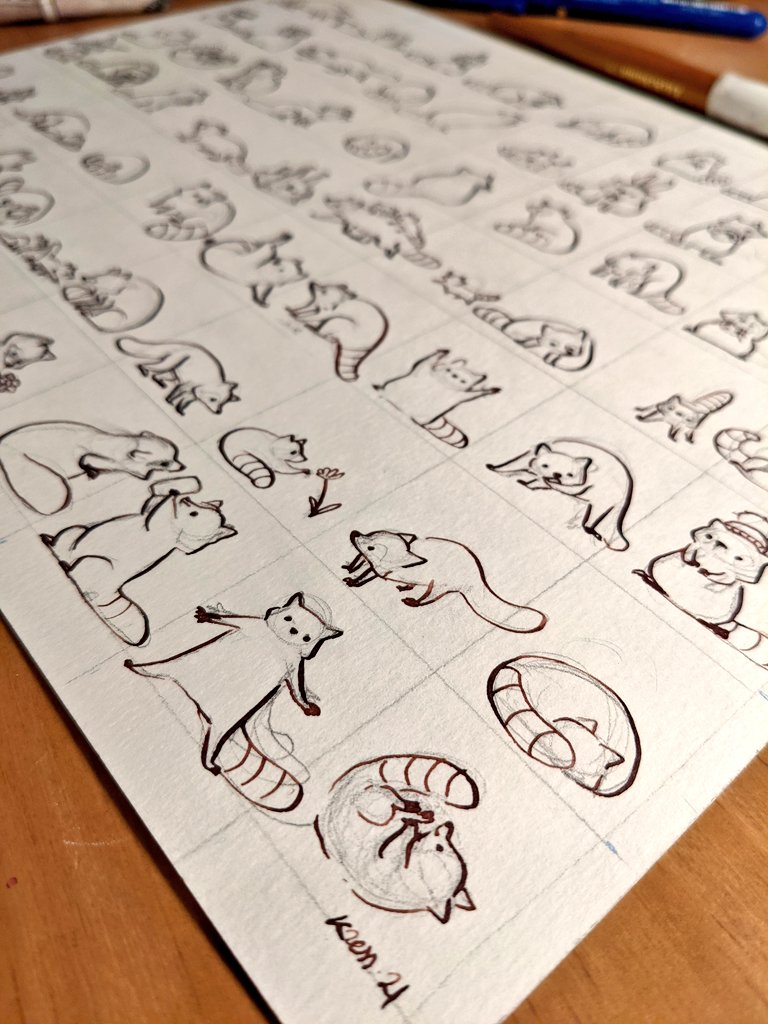 I work from left to right and from top to bottom because I am right-handed. This prevents my drawing hand to smudge fresh ink, no surprises here! The ink dries pretty quickly, but I really prefer to give it time before erasing the pencil- time to make tea! This longer drying time allows for cleaner work. The pencil marks on the faces of the raccoons will be erased, so I will have to memorize it. I also use the photos made for these blog posts to remember my original intention. My raccoon sketch is now inked and clean of pencil marks with a regular eraser. That's right, the original pencil totally disappears at this stage.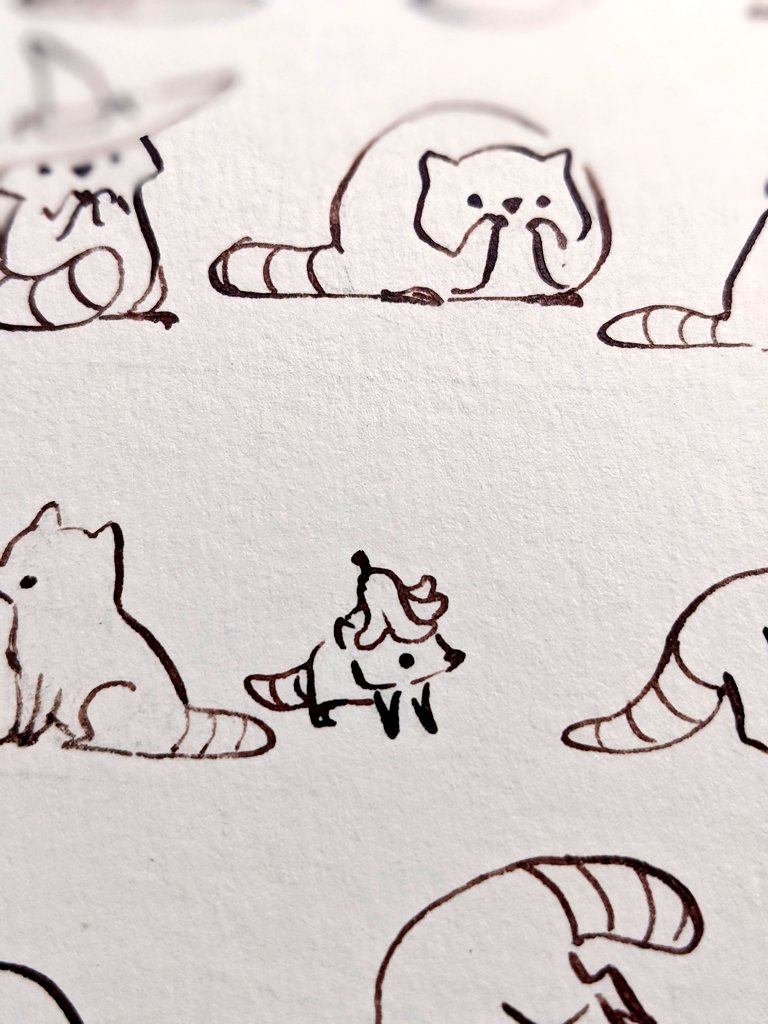 Watercolor Raccoons
Once the raccoon drawing has been cleaned of all pencil, I move on to color. For this drawing of raccoons, I used shades of gray and brown, always provided by my beloved handmade watercolor palette. Some raccoons will be glittery thanks to a particular shade of black called "Mordred"!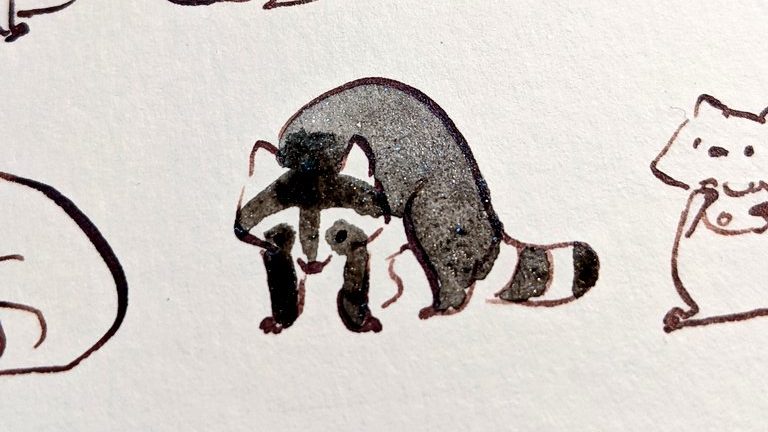 In order to add variety, I paint the different accessories with rather bright colors. I also used different shades of browns and grays to make this grid as playful and happy as our little burglars. I wanted this pattern of raccoons to be as fun as its protagonists. For some raccoons I used a white pen to create a lighter fur pattern. Finally, I added some plants and flowers to complete my drawing.
Scanning and publishing the raccoon drawing
Scanning a watercolor is always tricky, especially since my illustrations are always a bit larger than my scanner. So I scan them in two parts and stitch them back in Photoshop. I then make with a few small adjustments to achieve a white background and balanced colors. Once all these steps have been completed, I publish my work!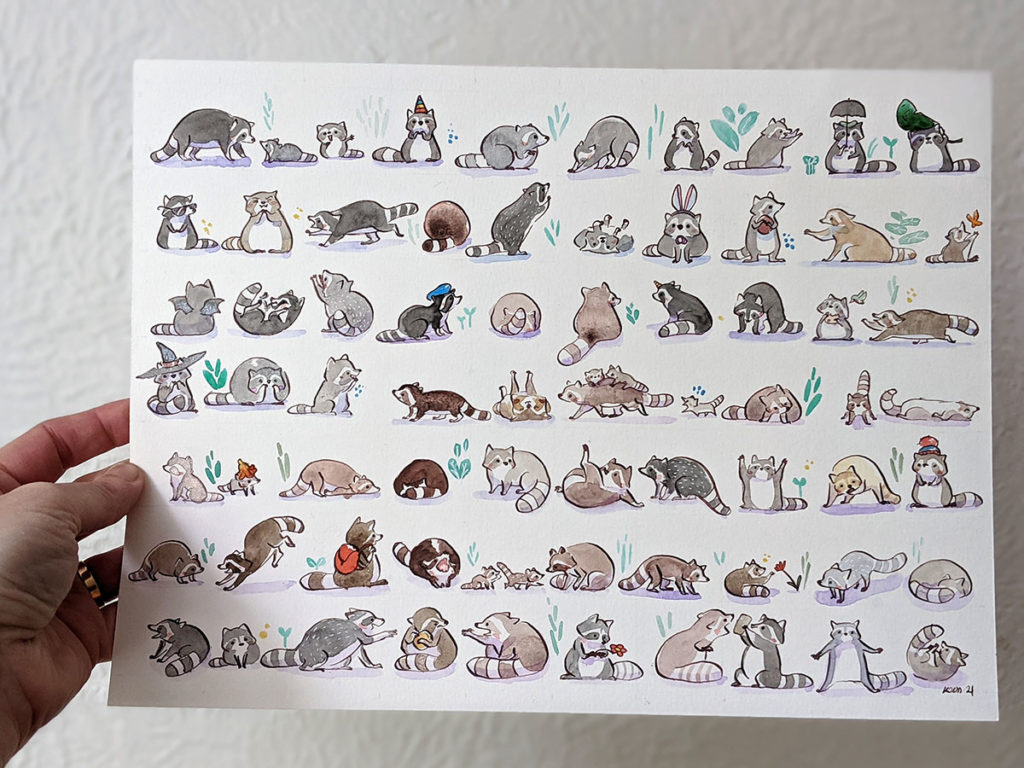 Goodies, Prints and Raccoon Washi tape
As almost always, the raccoon design is available as mugs and other goodies like phone cases, you can also add them to your walls as fine art prints. Finally, the design was successful enough to make it as Washi Tape! Since I mostly make animal ceramic figurines now, there are a few Raccoon porcelain figurines sometimes available in the shop.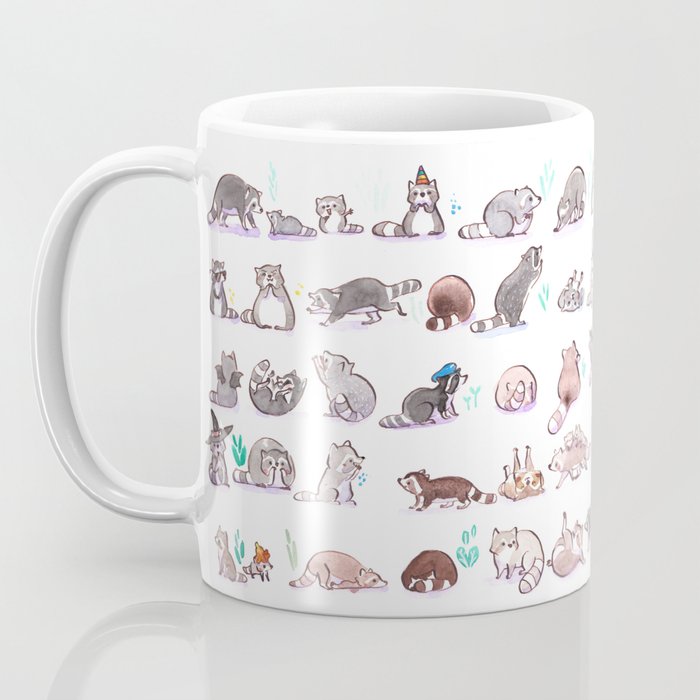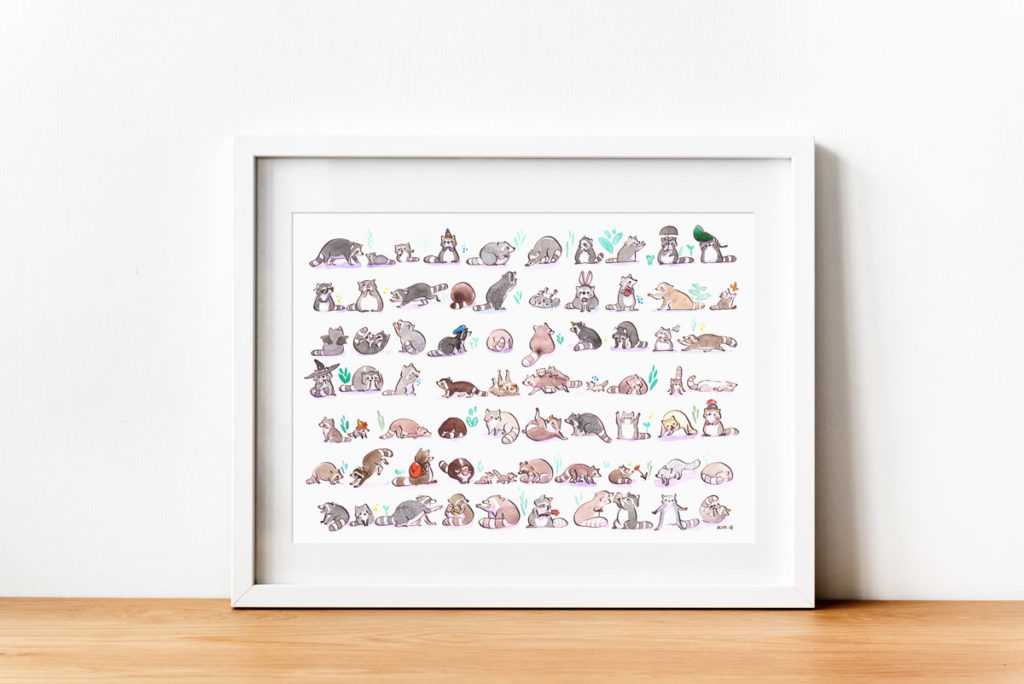 Small bonus for you who read this far ! If you are wondering where I find my ideas, for this drawing the inspiration came straight from the trash can.
🗑️The inspiration sometimes hides in your trash, we really have to look everywhere. Meet my backyard buddy ♥ pic.twitter.com/QbQEsgt485

— Kness (@_kness) May 12, 2021