I work on illustration for people. It's a thing that I really enjoy doing so feel free to contact me and we'll talk about it. If you want to know a bit more about the process though, here is a bit of information.
Illustration commission prices
As I wrote a long article about illustration prices advices, I'll just give some basic rates here.
The price for a simple commission starts at €100 – this does not include the original artwork though. You will be able to use this illustration online (banner, avatar, personnal use only) and / or order a product of your choice on my society6 boutique. So just keep in mind that depending on the product you want – it may be a mug, a pillow, an art print, you will have to spend a bit more money to get it from society6.
Example of illustration commission
Here's an example of what I made in the past few weeks : a client asked for her two cats illustrated for a poster. So we went through the process and she ordered her print via Society6.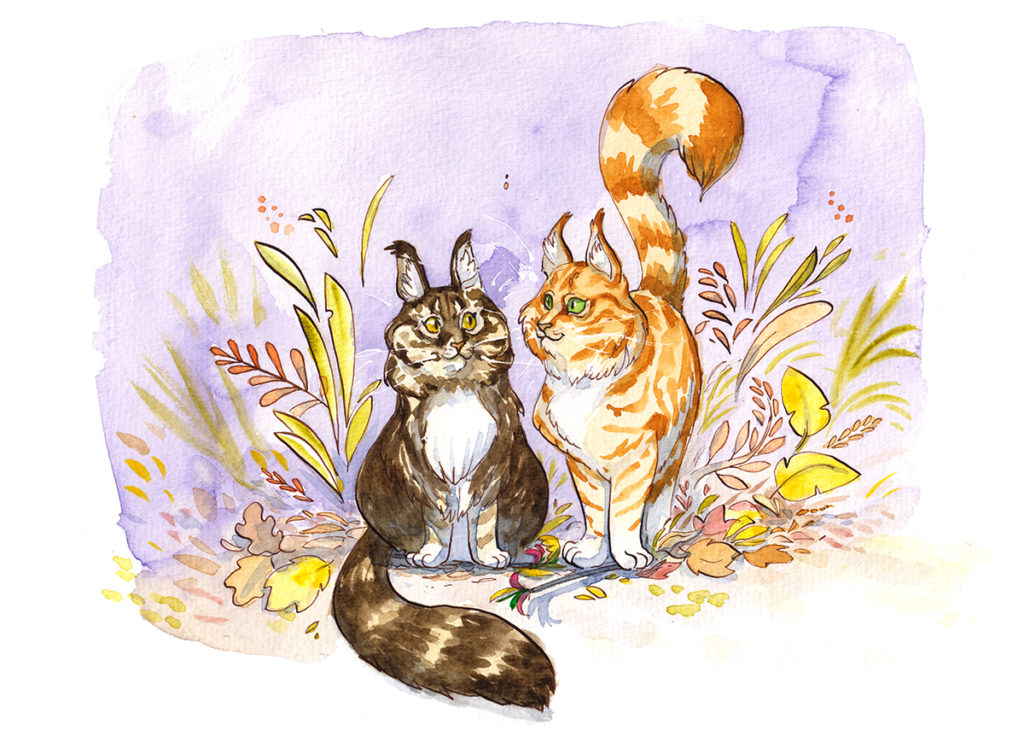 If you'd like to commission a painting, just let me know about your project and we'll talk timing and rates. No commercial use will be included for custom orders.
Commissionned Original Art
If you would like to get the original painting, the minimum price is €250 for an A5 format. This still doesn't include commercial use or exploitation rights. You will be able to frame and hang your illustration, or gift it to your loved ones 🙂
Illustration Commission : Step by step
Here are the usual steps for an illustration commission.
1 – Contact and agreement on price, subject, format, schedule.
2 – 50% reservation fee / this is non-refundable and usually with Paypal or Interac
3 – Sketch or rough
4 – Validation / you may ask for 1 or 2 changes in the picture (not 3)
5 – Colors and final payment
6 – Final version / details / scanning / wrapping if needed
7 – I send the picture either on society6 or by the mail / Postal fees are not included
Publishers
Sorry, I will not take any publishing contracts anymore.