Welcome to the world of pet portrait pricing! If you've ever considered immortalizing your furry friend in a beautiful and unique piece of art, you may have found yourself wondering what goes into the pricing of these captivating creations. In this guide, we will demystify the process and provide you with all the information you need to understand and navigate the world of pet portrait pricing. From the factors that influence the cost to the different styles and mediums available, we'll explore it all. Whether you're looking to commission a traditional oil painting, a porcelain figurine sculpture or pendant, or a whimsical watercolor, I'll help you understand what to expect and how to choose the perfect artist for the job. So, let's dive in and learn what goes into pet portrait pricing !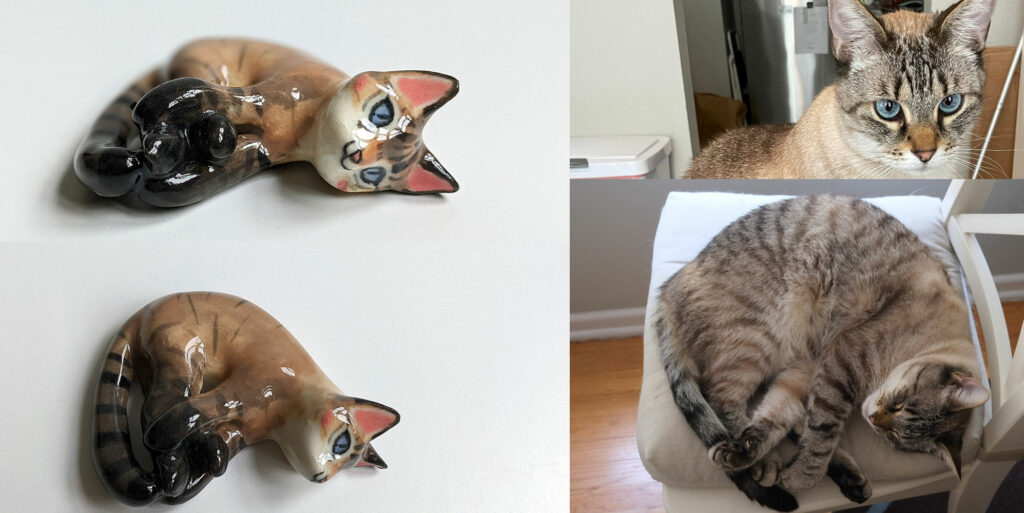 Pet portraits are a great way to commemorate your beloved animal companion, but with so many options it can be hard to decide which format and artist is right for you. You'll learn how to find the perfect artist and get an idea of what to expect in regards to pricing with this guide to pet portrait pricing.
In this piece we will only cover real artists making art from scratch, AI art shouldn't cost you a thing because it's all scraped from existing authors and is basically theft (don't go there please).
As I wrote in my blog post about illustration pricing advice – which I recommend reading if you're an artist who's wondering how much to charge for digital pet portraits for example – many things go into consideration while pricing a custom pet portrait. Three main parameters will be important :
Medium used
Size of the piece
Artist's reputation and market value
Factors to consider when pricing pet portraits
First things first : what do you need / want ? Before you start shopping around for a pet portrait artist, it's important to get an idea of what you're looking for. Determine your needs- will the portrait be a gift, or used as home décor? Do you want it to be realistic or whimsical? You might also have an idea about what size you prefer, if you'll need framing, and any other details that are important to you. Having this information ready when canvassing artists will help guide your decision and save time when talking with potential sources. All of this will have an influence on your pet portrait pricing too. Usually, the more detail / options, the higher the price.
Pet portrait pricing : choosing your medium
The medium in which your pet portrait is made will greatly influence your pet portrait pricing. The choice is entirely dependent on what you wish for :
sculpture – a ceramic animal or a piece of porcelain jewelry
painting or drawing – digital or traditionnal medium
photography
fabric – a plushie, knitted or sewed
Look at samples from each artist to find out what type of work they are best at and whether it will match your vision. Some materials may be more expensive than others depending on their rarity and needed craftmanship – so don't forget to factor that into your budget!
Consider the size of your pet portrait
The size of the piece can greatly affect pet portrait pricing, as larger sizes require more time, supplies, and materials. Consider your budget and what you will be doing with the portrait: is it being used as an accent, as a main piece in a room or gallery wall? Smaller portraits are often best for gifts or small spaces. If you're looking for something to take center stage, then a larger piece may be your best bet. Be sure to ask any artists you speak to what size they recommend.
Production time and turnaround
If your pet portrait order is meant as a gift, think way ahead of time ! While some artists will be able to make your digital portrait as fast as within the week, other medium are much slower to work with. If you'd like a porcelain figurine, I will need 6 to 12 weeks of production to make it happen. A piece of tableware painted with your dog's cute little snout might take one or two weeks if I have a blank bowl or mug in store but sculpture will be longer most of the time. Ask your artist how long it will take and if they will update you with work in progress – which might slow things down a bit.
Let's talk about a few real life examples !
Digital painting pet portrait
The price will vary a lot between two artists. For example, Chloe Carter offers commissioned pet portraits that are very detailed and realistic, they will start around $450 and she offers a wide range of options. If you'd like to be regularly updated and receive drafts, it's a slightly higher fee.
Rose Smith also offers lovely stylized pet portraits.
A cartoony or simpler styled artist might charge less, it really depends on the style you like ! I'd suggest checking out the pet portrait directory which has a few artists listed by price range.
When considering a digital painting, you will have to think about printing it if you'd like to hang it in your home or gifting it to a loved one. This will add a printing fee and require you to find a professional printing service. Once printed, you might also want to have it framed.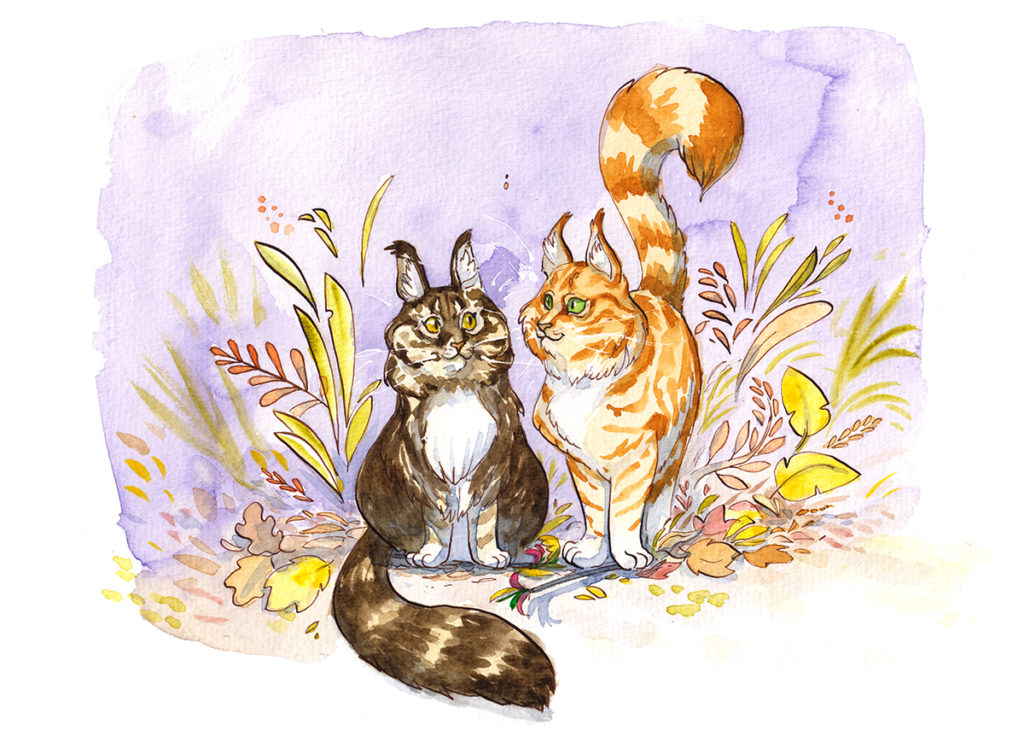 Natural media pet portraits
Pet portraits in oil, charcoal, or any other natural medium will often be priced higher than digital paintings. They might include framing or not, it's an important question to ask your artist of choice. Shipping will also be an added fee, so you might want to consider local artists. Artists like Maddy Wilson offer lovely stylized portraits for around $100.
I offer watercolor portraits and they can either be shipped to you as an original painting or scanned and sent as a digital file, depending on what you prefer. Watercolor pet portrait prices vary from $150 to $750 and more for one of my signature pattern portraits where I will paint 20 to 30 versions of your cat, dog or bunny (or any other animal). They are lovely if you're unable to pick a position or reference picture !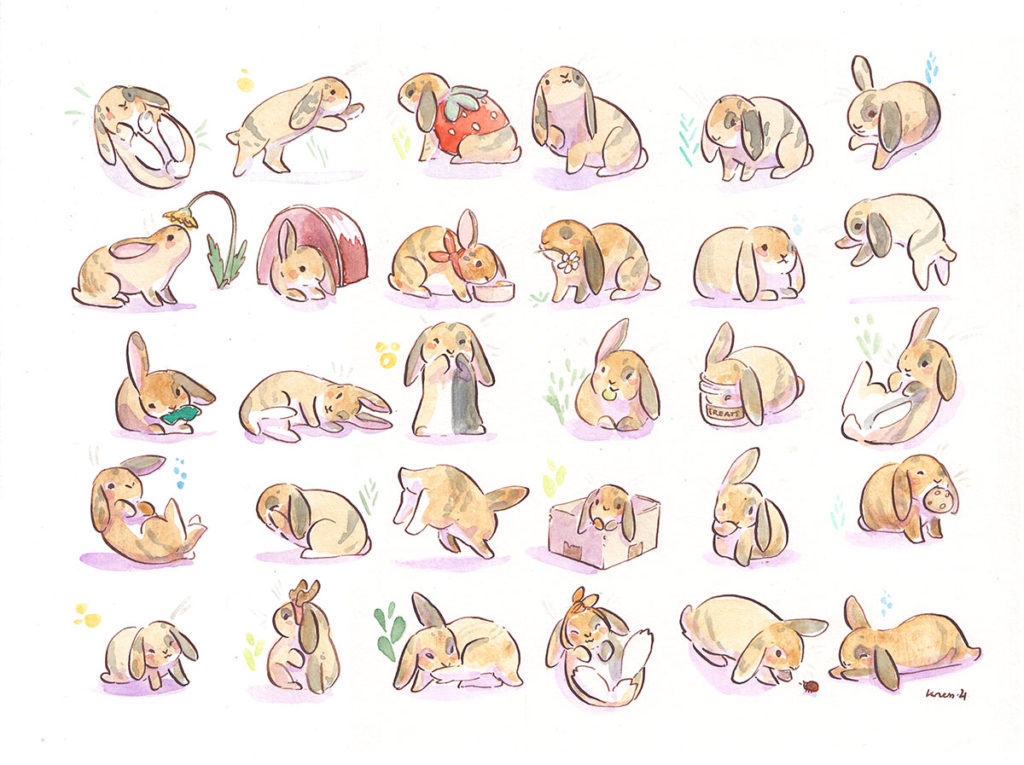 Pet portrait sculptures
Pet portrait sculptures are very special. You can consider a big sculpture, like Nick Mackman's work which is incredible. If your budget allows for a more modest sized sculpture, you can check out my ceramics figurines commissions.
I offer cute little figurines as pet portraits, they start around $150 + shipping to your location. They are around 7-10 cm large so they're a lovely little addition to a desk, windowsill or book shelf.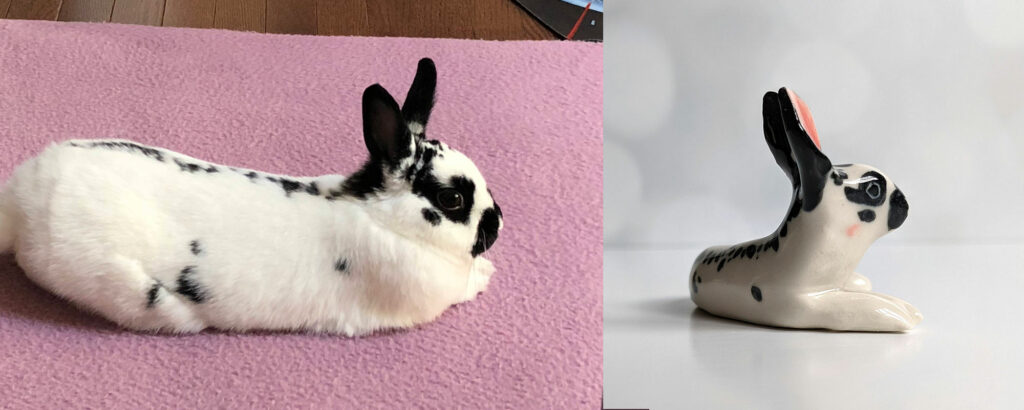 Pet portrait jewelry
Some artists also offer pet portraits as jewelry. As a matter of fact, I sculpt pet portrait pendants on a regular basis. Whether it's a cat, a dog, a ferret or a pair of beloved birds, I can transform your pet in a lovely little gem for you to wear on special occasions or everyday.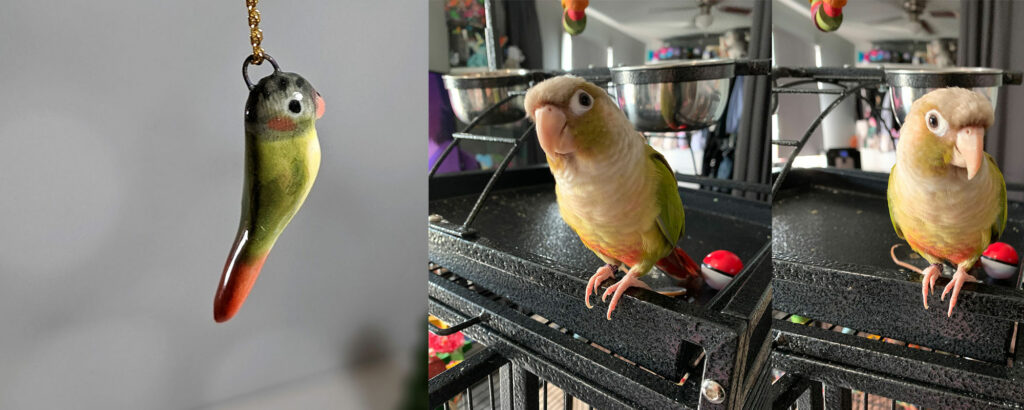 I hope this pet portrait commission pricing guide has helped you define your project and get an idea of the price range for your piece. The prices vary a lot, so there's no one size fits all solution here. It's all a matter of taste !
My commissions are sometimes open, you can check them out here, with a full price list and samples of the work. I worked on a guide to commissioning artists, it's going to be pretty useful if it's your first time commissioning a professional artist. Wanna see more pet portraits ? Check this Pet Portraits blog post where I added a few pictures from recent commissions. And 10 Custom Cat Portraits are published here.