A porcelain pet portrait is a sculpture of your pet as a ceramic figurine or porcelain pendant, handmade in Canada by a ceramic artist (me :D). It's a unique gift, durable and impossibly cute. I was lucky enough to sculpt a great variety of pets for my lovely customers. Each pet portrait sculpture is one of a kind, they take time so custom orders are open once every one or two months. I'll present a few of the porcelain custom pet figurines I've created this past few months.
Dog pet portraits, a gift that's forever
I'm a dog person, although I had several cats that I loved dearly, dogs are a better fit for me because they're often more predictable 🙂 I love sculpting dogs so here are a few pieces I made these past months.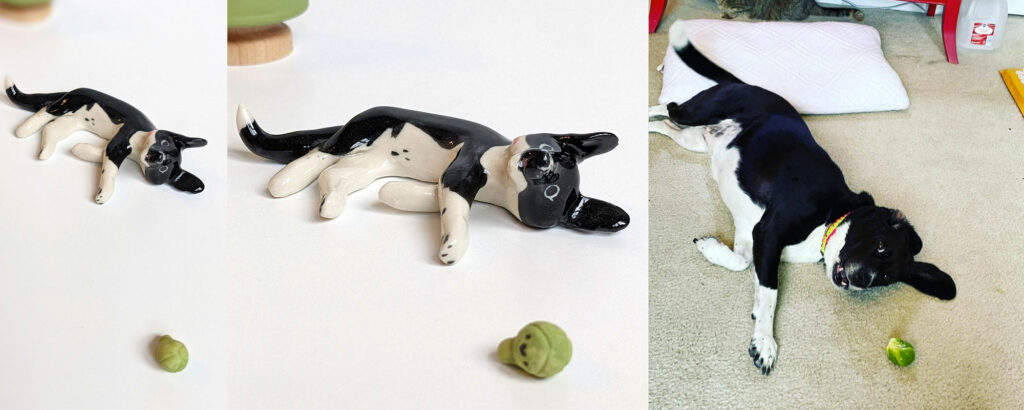 A dog pet portrait is a lovely gift for anyone. Whether you are a dog owner or not, you can celebrate a dog breed while waiting for your own pup. I often do memorial pet portraits for a beloved pet of the past. Names and dates can be included on a small figurine, visible or on the underside. A memorial urn can also be made on order.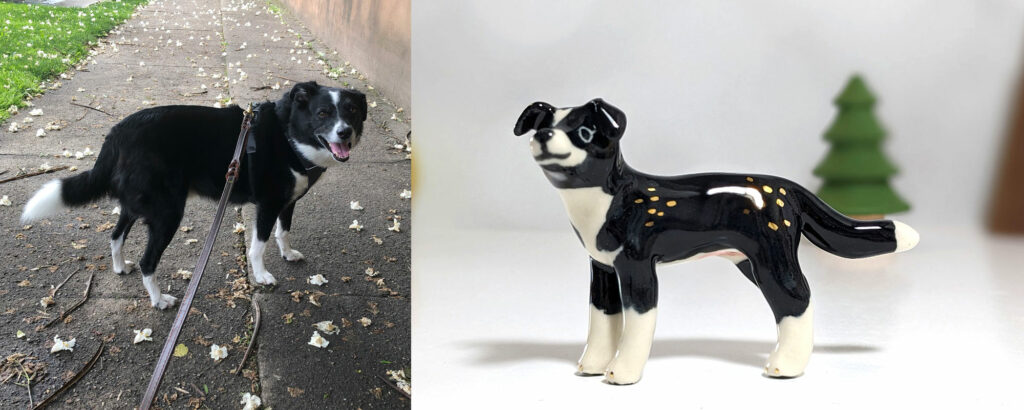 Most of my work is about living dogs celebrated by their owners, or gifted to them by their spouse, friends or family member. Each handmade pet portrait statue is unique and painted from pictures. I sculpt and paint in a cute minimalistic style.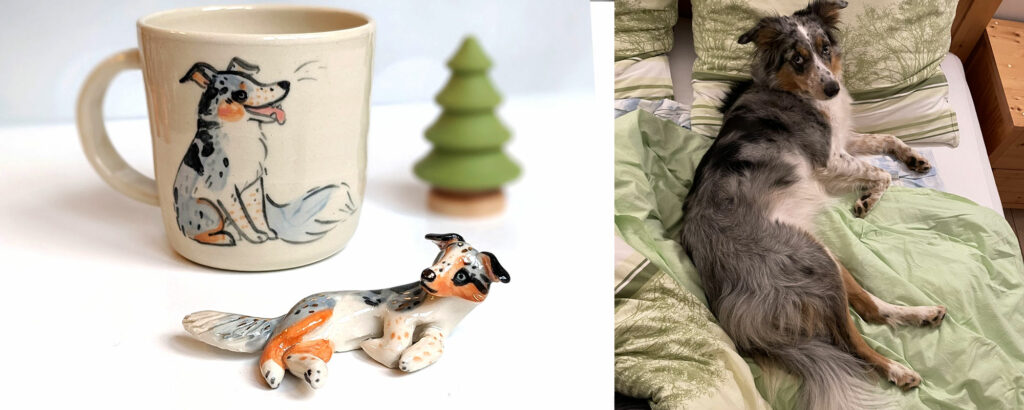 Cat pet portraits, the perfect cat-lover gift
Cats are the most popular pet portrait I create for my customers. Most of them are in a very dainty, calm, sitting pose but I get the occasional goofy cat in a weird playful position and that's a delight.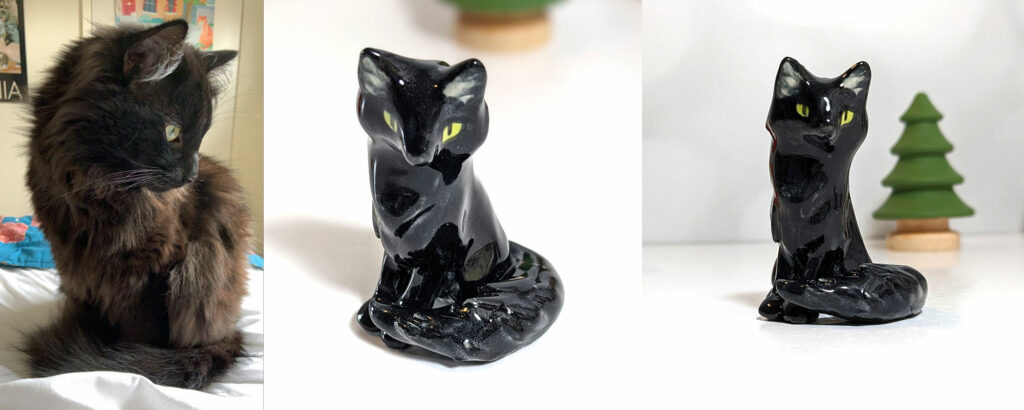 Since cats come in all shapes and colors, they are a lovely subject for any artist. While I occasionally create cat portraits in paintings, here are a few sculpted cat portraits I made recently.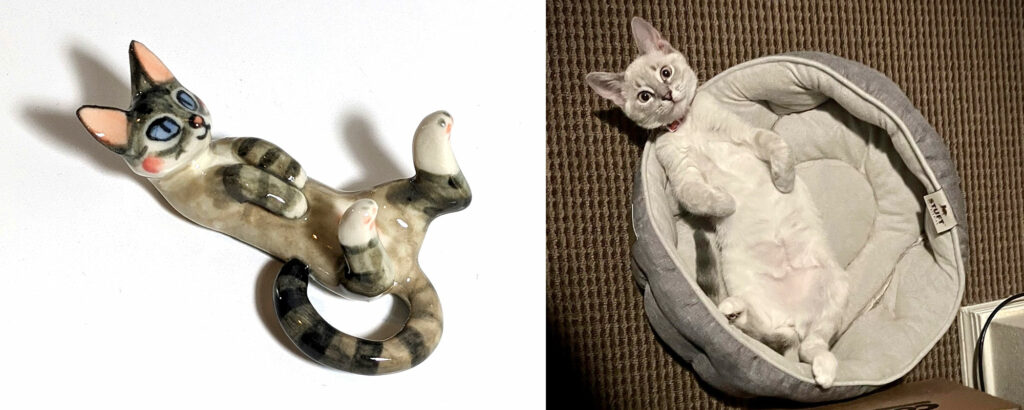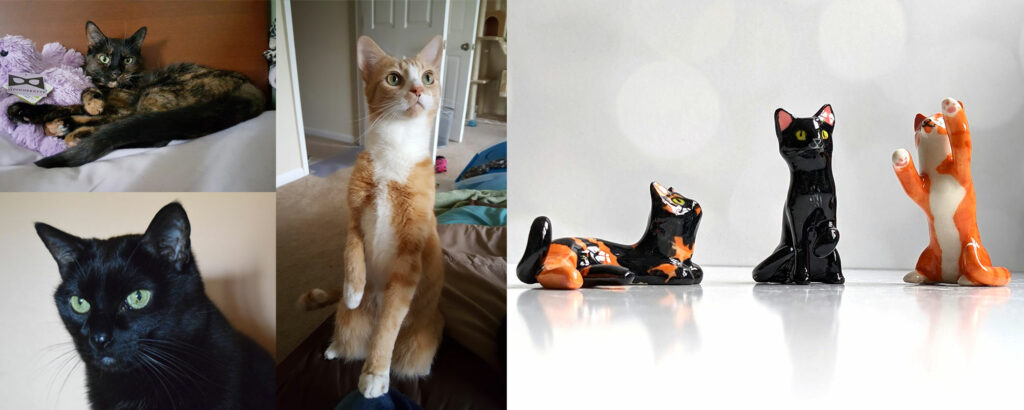 Pet bunny portraits, celebrating one of a kind rabbits
Rabbits are another popular pet that inspired several porcelain portraits. Some of them were celebrated through a memorial urn and others in paintings. I love sculpting bunnies, real and imagined so each little bun commission coming my way is lovingly modeled after your beloved pet rabbit.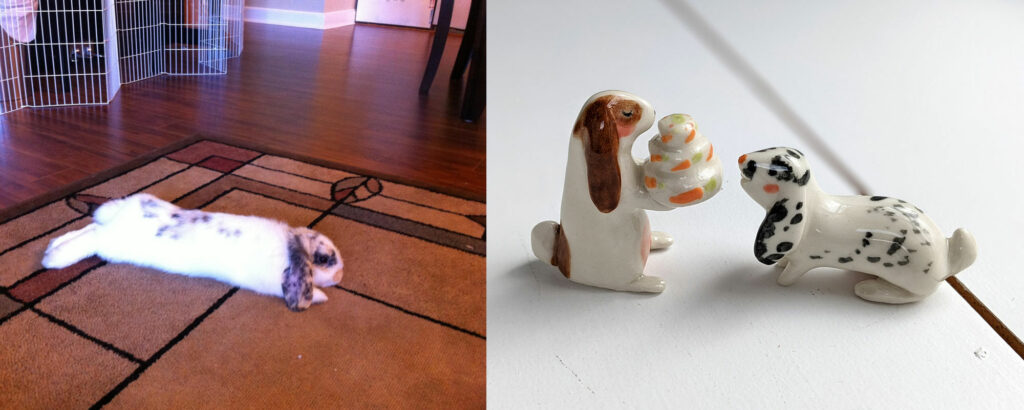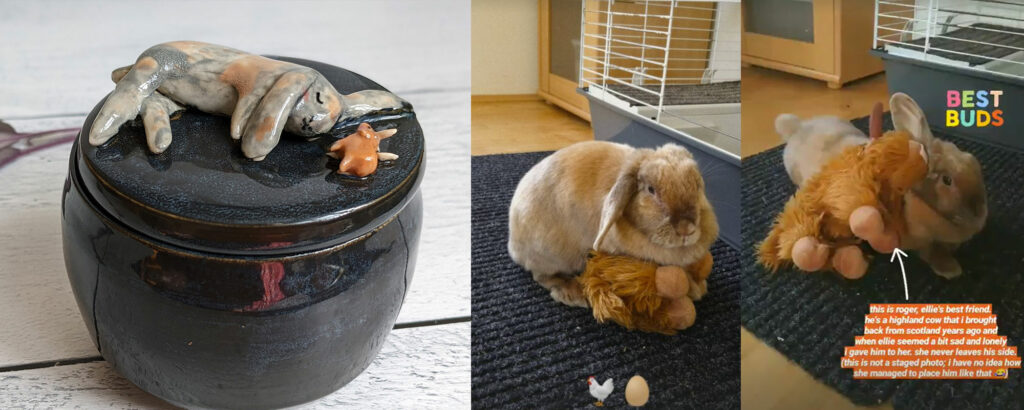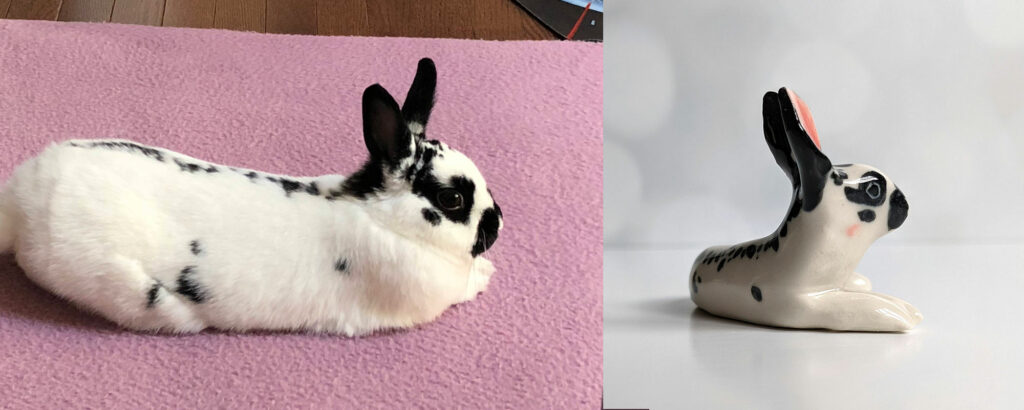 Bird pet portraits, a colorful gift
Whether it's a conure, a parakeet or a love bird, pet portraits of bird are the best gift for a bird parent ! Your feathery baby will be able to accompany you everywhere as a pendant. A bird portrait can also sit on a windowsill or a shelf at your office for example. Wherever it sits, your bird pet portrait as a figurine or a piece of porcelain jewelry will brighten your every day life.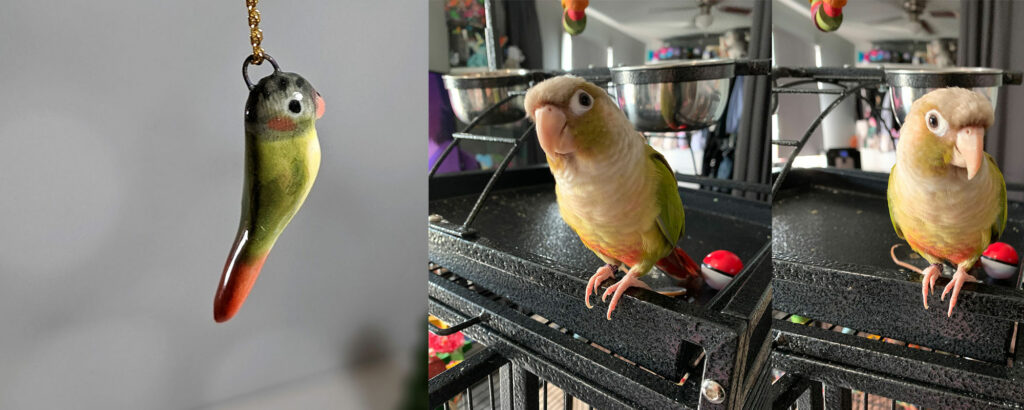 Here are some colorful bird portraits I sculpted.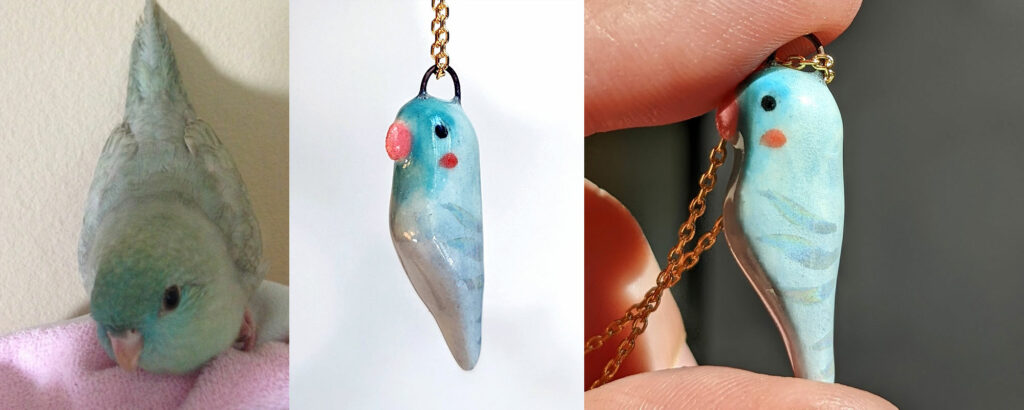 Guinea pigs portraits : porcelain cuteness
Round, cute, mischievous guinea pigs also have their pet portraits ! These small critters are so lovely, a few clients requested their guinea pigs portraits to be made in porcelain. Here are some of them.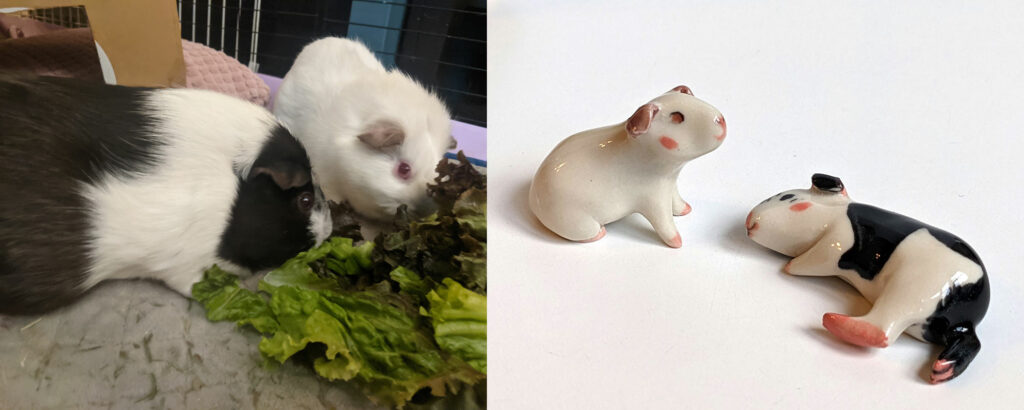 Rats pet portraits
One of my favorite pet commission was this family of 7 rats that my client had over time. They did not live together as real life rats. They're now reunited as a family in the heart of their human, and as a figurine set of adorable porcelain rats.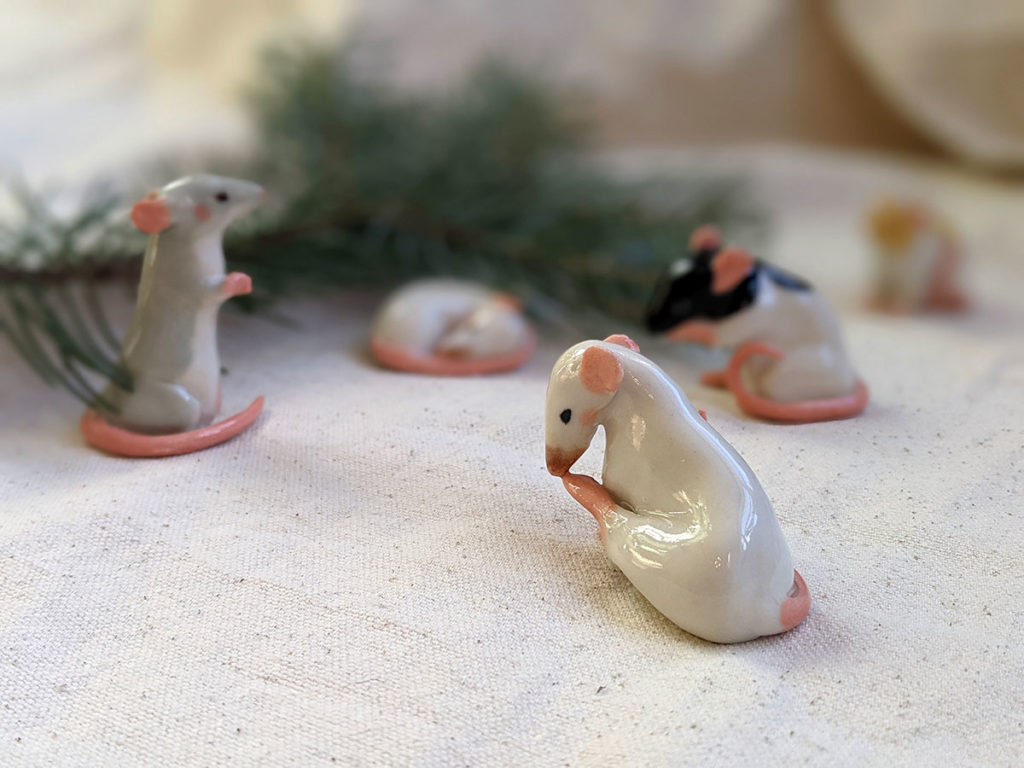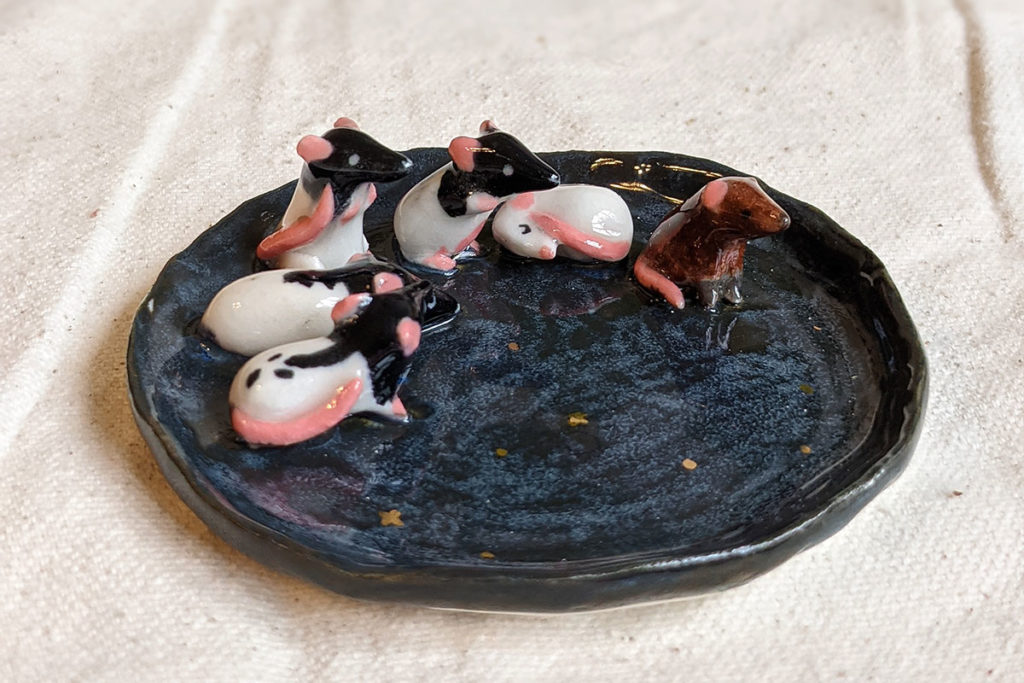 Another lovely project was this pair of rat buddies that always snuggled together and now they're snuggling as a porcelain pendant. A cute reminder of the love for our adorable pets.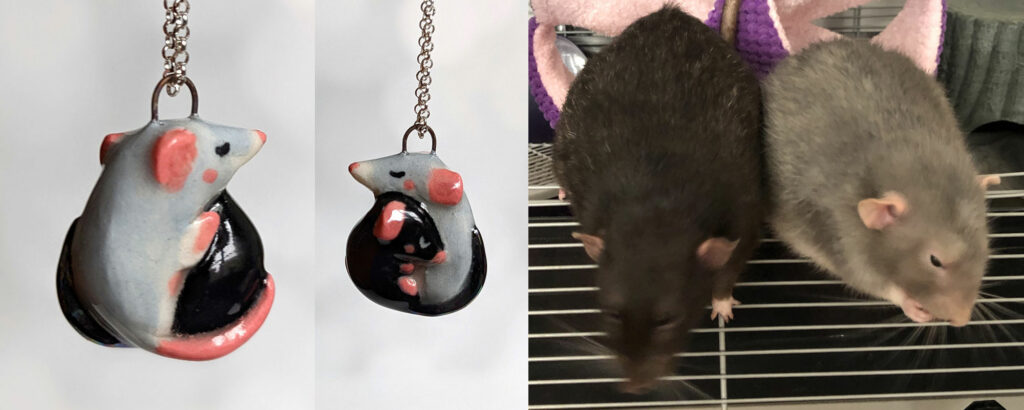 Other pet portraits
My customers sometime request more unusual pets like betta fish, lama or pigs. Any pet can be requested !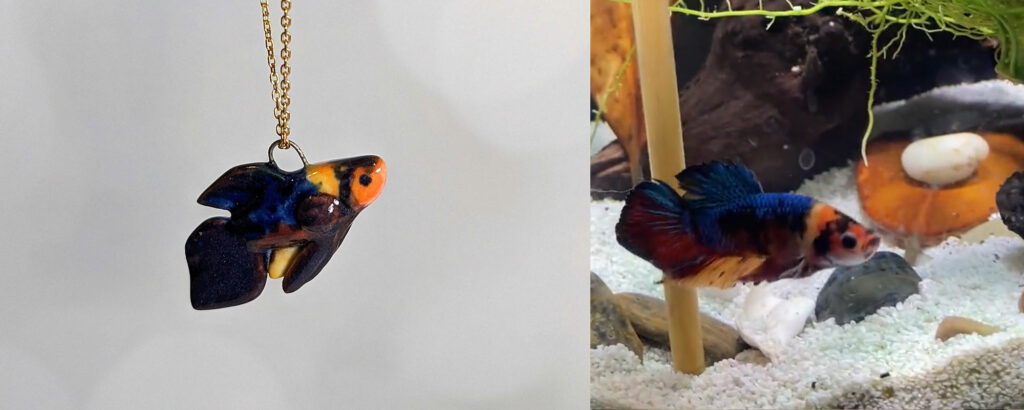 How to order a custom pet portrait
If you would like to order a custom pet portrait made in Canada, either in painting or as a porcelain figurine, or painted on handmade tableware, you can go ahead and check out the commission page. They're not always open as I am an independent ceramic artist and one woman business. But once every one or two month, you might get a chance !
If you would like to be notified when commissions open, the best way is to subscribe to the mailing list at the bottom of this page. You can also join a wait list on your favorite animal. When it's restocked, you will get a notification e-mail.
More info about how to commission an artist here.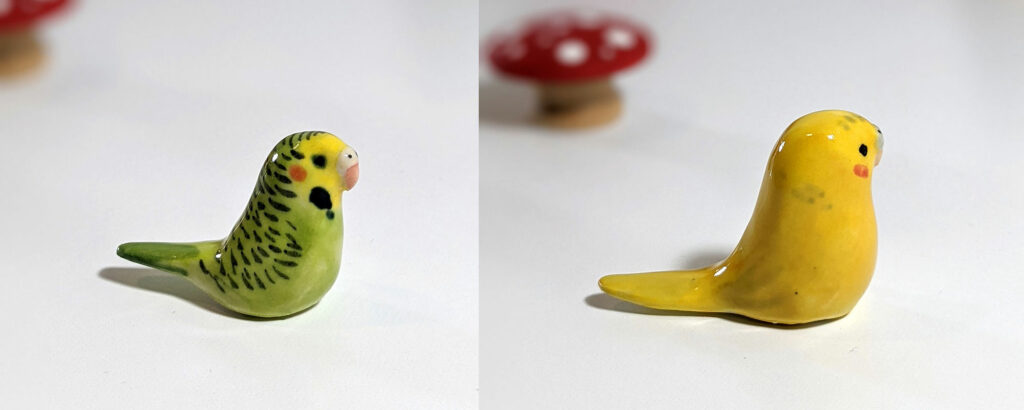 Ceramic Pet Portrait Testimonials
"Perfect little figurine, perfect packaging and perfect buying experience"
I received the sweet little sculpture of Charlie the border collie today. The box arrived from Canada (to Ohio, USA) in good shape and quicker than I expected. The little figurine itself was wrapped with great care and is fully intact. The inner gift box has a precious little line drawing of Charlie on the top, what a surprise! I chose gold detailing and afterward I wondered if that would be a difficult task since Charlie is black and white, but Kness made stylish gold flecks in a few places and I'm so happy I made the choice, the finished product is simply sublime. The bottoms of the feet were ground flat so ceramic Charlie can stand upright, which he will, proudly! I'm saving this to give for Christmas and it's going to be a difficult 82 days to keep this little treasure a secret. Thank you to Kness for this perfect little figurine, perfect packaging and perfect buying experience and interaction. I'm so happy and I hope you are too! 🙂

Laurel
"The end result was incredible"
The entire commission process was so easy from start to finish! I sent pictures of my rats that I wanted featured on the pendant, and she sent back two options for posing, which I appreciated so much! And the end result was incredible, she even captured the little bit of white around one of my boys' noses! It's so nice to have such a lovely piece that will keep my boys close to my heart.

Meghan
"Made him feel like we could always keep a bit of him with us"
I got a commission of my cat that recently passed and she couldn't have done a better job capturing his image. She really took into account the little details of him, and really made him feel like we could always keep a bit of him with us. I gifted the piece to my mother and she loved the art on the box and everything! He sitting by an old photo of him now in his little shrine and I couldn't have asked for a better person to commission.

Beau