Here's my latest painting, 72 frogs, all cute ! Each frog is unique, and painted in watercolor like the other animal collection paintings. The original painting is sold out but Mugs and Art prints are available.
A grid and frog sketches
I began with a grid before sketching all the amphibians. This stage took me quite a while as I figured out the frogness of them all. They may seem simple, but they're very specific and subtle in their shapes. Each frog species has adapted to its habitat and they are very different from one another. Body shape, legs lengths and feet webs, as well as color and texture make an infinity of possible frogs.
Here are the rough sketches in grey or blue depending on the available pencil.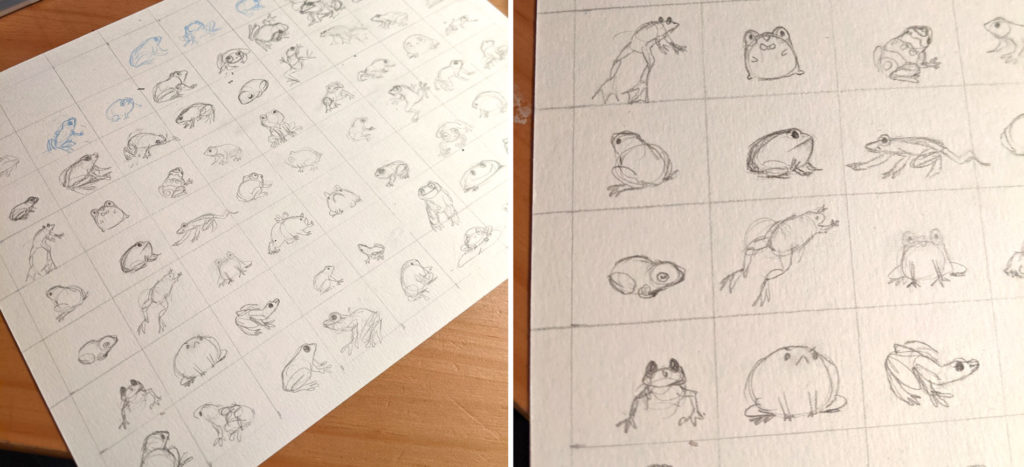 Inking the frogs
After a while, I went back to the frog sketch and made a few changes. Then I inked with an archival ink. It's waterproof so that it doesn't mix with the watercolor paints.
Once dry, I erased the pencil marks and went on to the next step.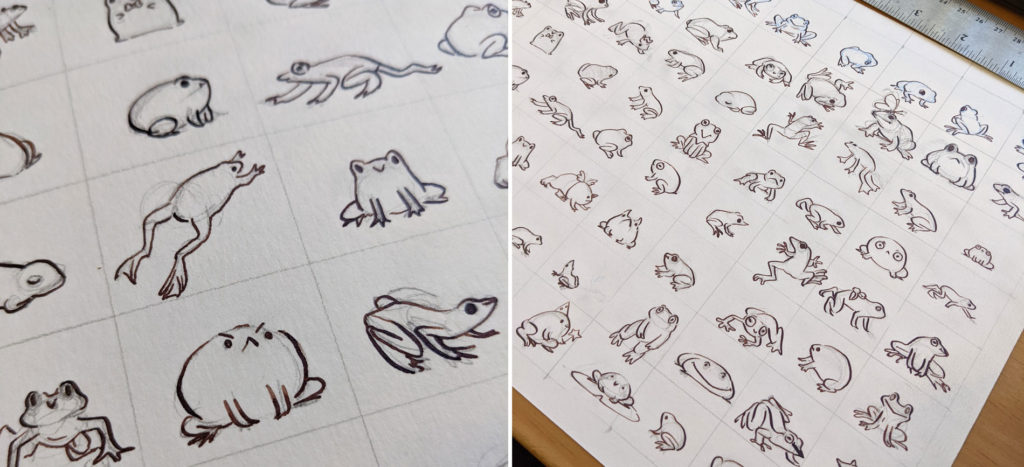 Watercolor Frogs
Once clean, I added watercolors to the inked frogs. I had several photo references to remind myself of different color pattern and species details. I tried to stick to a few iconic species like the red eyed tree frog or a few rain frogs. Some species are real, some aren't. For example the yellow judging frog is imagined and kind of a joke with one grumpy friend of mine.
There's a unicorn fairy frog, a muppet frog, a frog mage and more.
I used hand crafted watercolors with glittery paints that I absolutely love. It makes the original unique and impossible to reproduce with the usual printers.

Art prints and Frog Goodies
If you like the little frogs, you can order them as mugs, goodies or art prints. The frog mugs and phone cases are at Society6. While Art prints and canvas prints are on Inprnt.