I painted a 63 cute bunnies illustration with watercolors. This original painting was created in December of 2020. It's now available as an art print or as goodies such as mugs.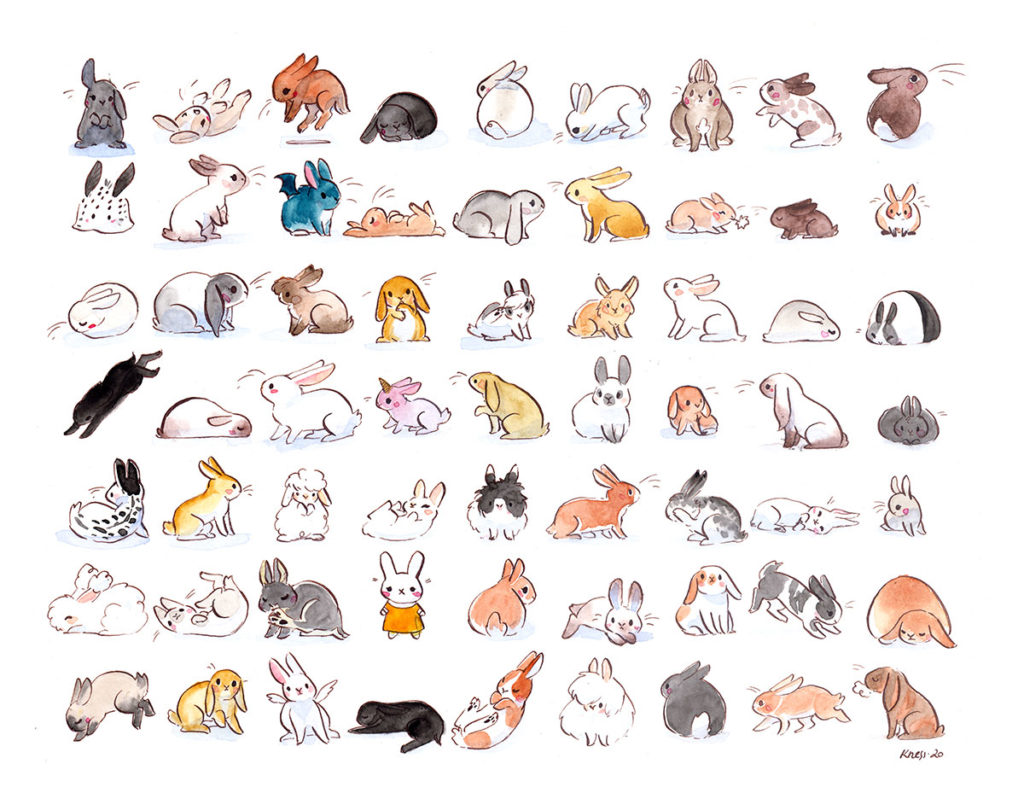 Drawing a cute bunnies illustration
I first drew a grid. That's what I do with every animal pattern illustration. Then I patiently doodled 63 cute bunnies. They're all different and some are not like the others. You can find 5 "different" bunnies in there.
Learning more about rabbits
I got my inspiration mostly from browsing the internet in search of bunny shapes and forms, breeds and color patterns. They can be huge and fluffy, or you can hold them in the palm of your hand. Bunnies are wonderful creatures. They're often mistook for rodents, which they are in fact not. Fun fact : they were part of the rodent family along with squirrels, rats and marmots until the early 20th century. Then some important differences set them apart from rodents. So they are now in the lagomorph family with hares and pikas. Rabbits are obligate herbivores, unlike rodents who'll feed on grains and seeds. They also have a different digestive system and different teeth.
Drawing this cute bunnies illustration taught me a lot about rabbits in general. For example : they do not have toe beans (which I learned after inking them with cute lil beans, let's say it's just dirt XD). They have fluffy feet instead and it's even more adorable.
I also recently learned that bunnies should never bath, so keep your buns dry and warm please !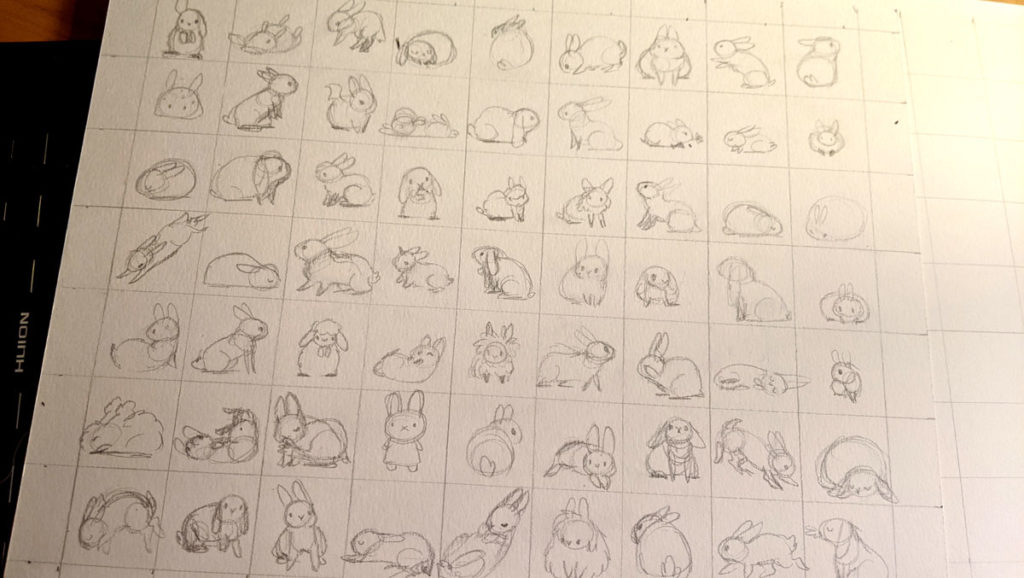 Inking 63 small rabbits
I then inked all the adorable rabbits with a dark brown archival ink from DeAtramentis. It's important I use a waterproof ink. Otherwise the layer of watercolor might just dissolve the ink and make a mess of everything. Some artists paint before they ink – which is another way keeping things clean.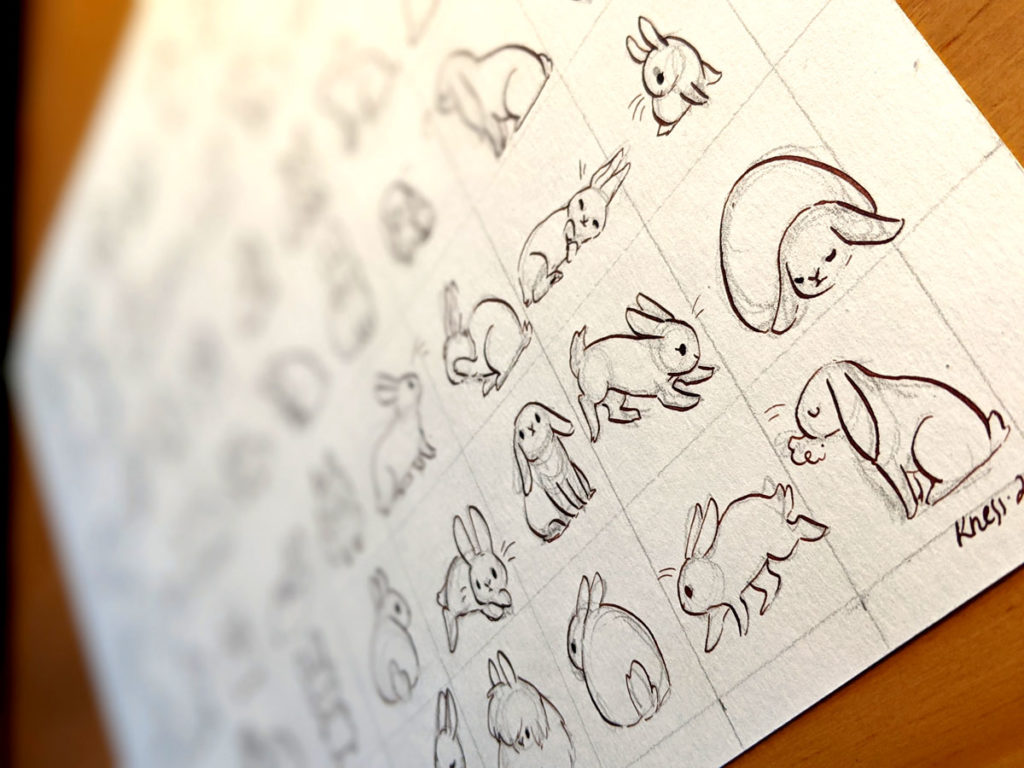 Cute bunnies in watercolor
Once the ink's dry, I go on with watercolors from Kuretake and the amazing handmade ones by Manon from Le Pigmentarium. I noticed very different coat colors and specific patterns in bunnies. I also included a few internet buddies pet rabbits. The one below just passed before I painted this and it was so cute. Bunnies live 5 to 10 years, they make really good friends especially when house trained and let to roam free in your home.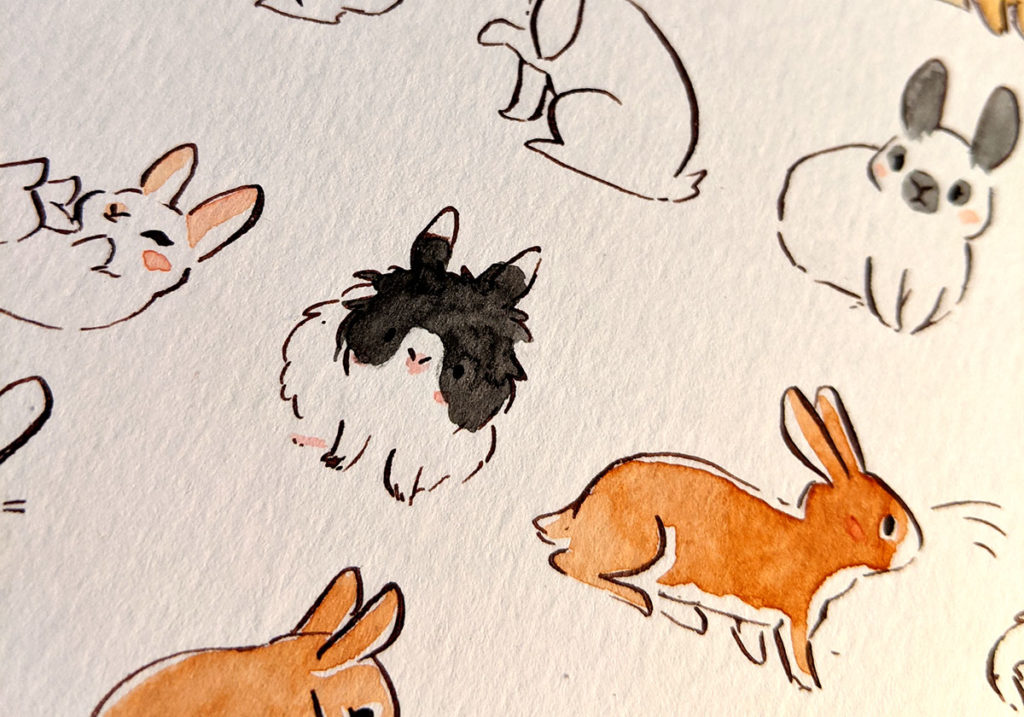 Scanning and saving files
When the cute bunnies painting's dry, which takes but a few minutes, I scan my watercolor and clean it. I then save a few different files with various sizes. I usually work on one or two specific files for the mugs. There you go ! The original painting has now sold but a few other drawings are available in the shop.
More Bunnies and related works
I love bunnies and painting this picture was enlightening in many ways. I created more bunnies since then, mostly as porcelain figurines. I also began creating bunny memorial urns as custom orders. A customer of mine asked if I was open to trying a lidded vessel that would be used for their bunny's ashes. I agreed this would be a lovely idea and I began working on a prototype. It ended up being the bunny urn pictured below. I really enjoyed making this piece, a symbol of love and respect for a departed friend.
I wanted it simple with a cute bunny figure resting on the lid. My customer asked for bunny illustrations on the sides of the vessel. To this, I added dandelions, which happened to be this little rabbit's favorite food.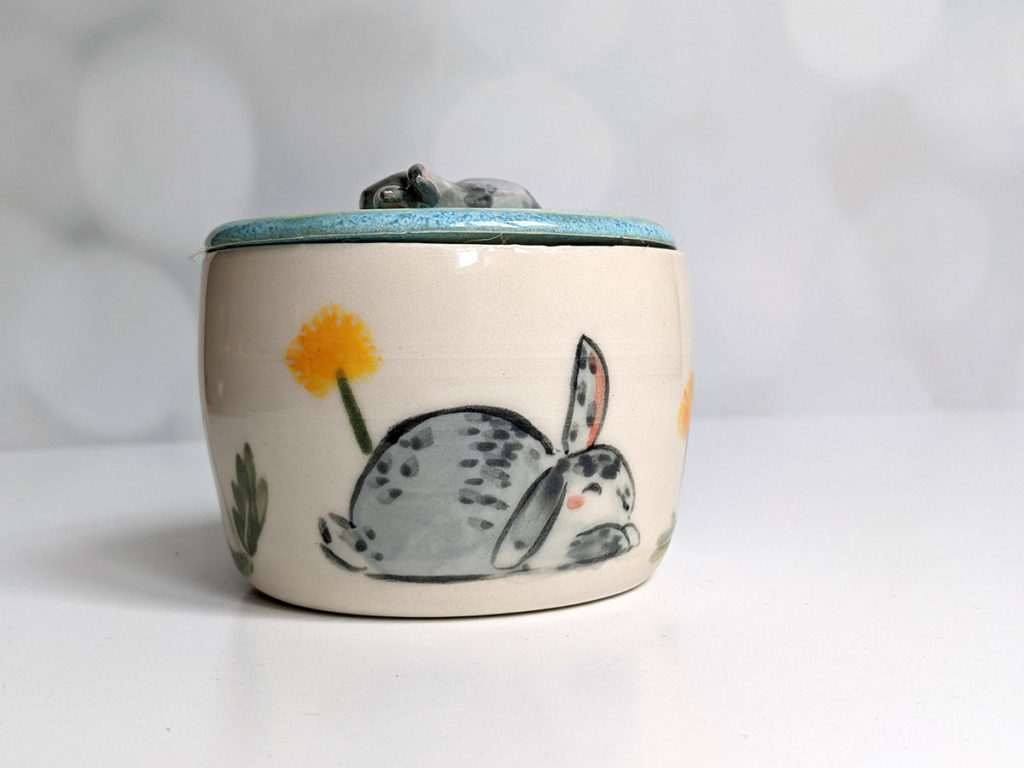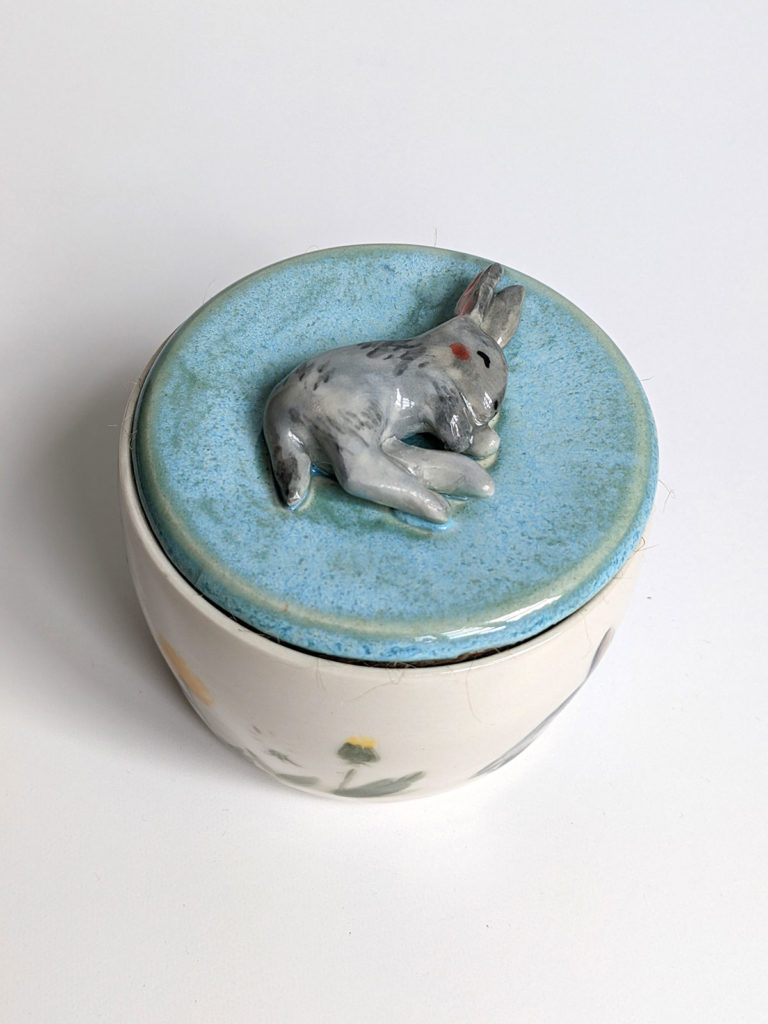 If you'd like to know more about the porcelain bunnies and all things rabbit related, you can check them out in the shop.
The cute bunnies illustration is also available as washi tape.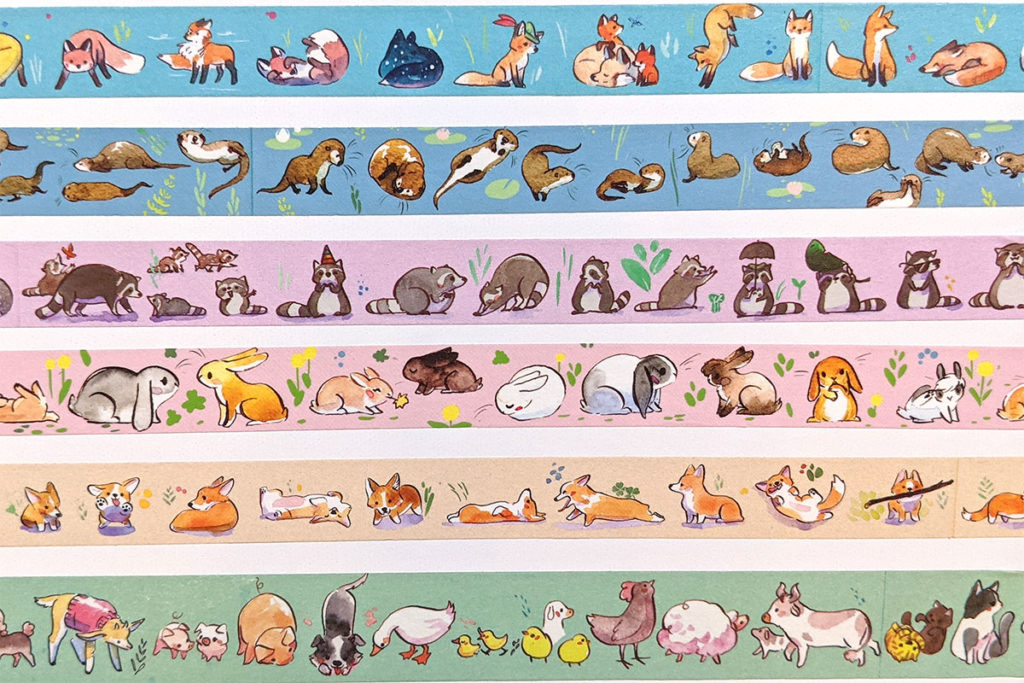 I also painted a Jackalope series which has various antlered rabbits – I like this one a lot ^^