A few years ago, as a side project along my animal illustrations, I took to sculpting clay animals. I mostly create porcelain animal figurines and porcelain jewelry. My handcrafted clay animals sizes range from 1 to 10 cm long. This craft evolves constantly, and I now professionally create cute animal clay figurines for home décor, pendants, brooches and porcelain charms. The ceramic animals are available in my online shop. I also take custom ceramic orders in order to sculpt your pets, favorite animals or legendary animals. Lets check them out !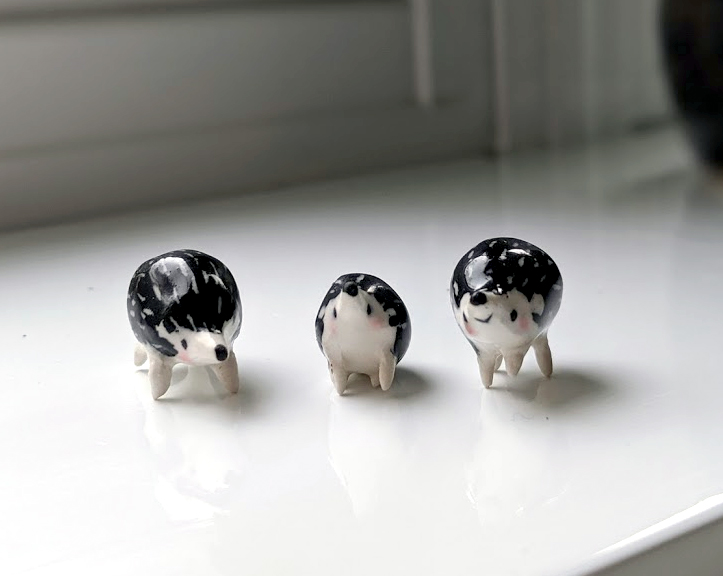 Unique Clay Creatures
Each and every one of these cute little clay animals is handcrafted, painted, fired a few times, photographed and carefully packaged in a custom box. You can see most of the steps, including the boxes on instagram. Crafting clay creatures is a slow process. Most custom orders take about a month to complete. In order to understand all the steps involved in the process, I wrote a whole piece about a custom order from first contact to sending the clay animal to my customer. Check out how I make a Clay Figurine Sculpture, step by step.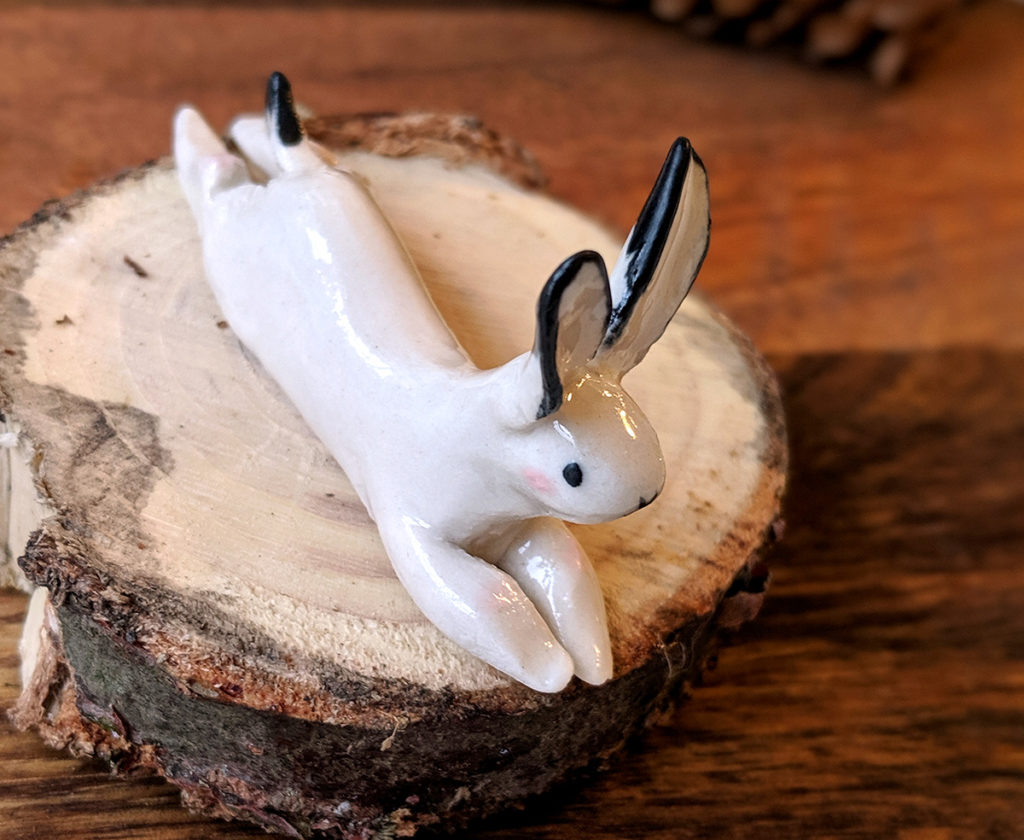 Cute Clay Animals
My work is mainly on the cute side. I will create cute clay animals of every kind, species or breed, real or imagined. Even the slimiest weirdest critter has it's cute side, and I will find it ! Let's talk frogs, axolotl or snake : cute cute and cute !
I also create clay cats and clay dogs, as ceramic animals portraits of your beloved pets for example. Let's talk about commission and custom orders of clay animals now.
Custom orders and special occasions
The handcrafting part of this activity involves documentation and a 3d feel of the animals I did not have with illustration. I also wanted to keep my simple and cute style in the clay animals. Some custom orders are really touching too, and I really love to handcraft gifts for your loved ones. Feel free to either check out if the ceramics commissions are open or maybe there's something in the shop that's already available for you !
Keep in mind that each piece is one of a kind. No two clay animals are the same because of the process I use. I put a few examples of them afterwards 🙂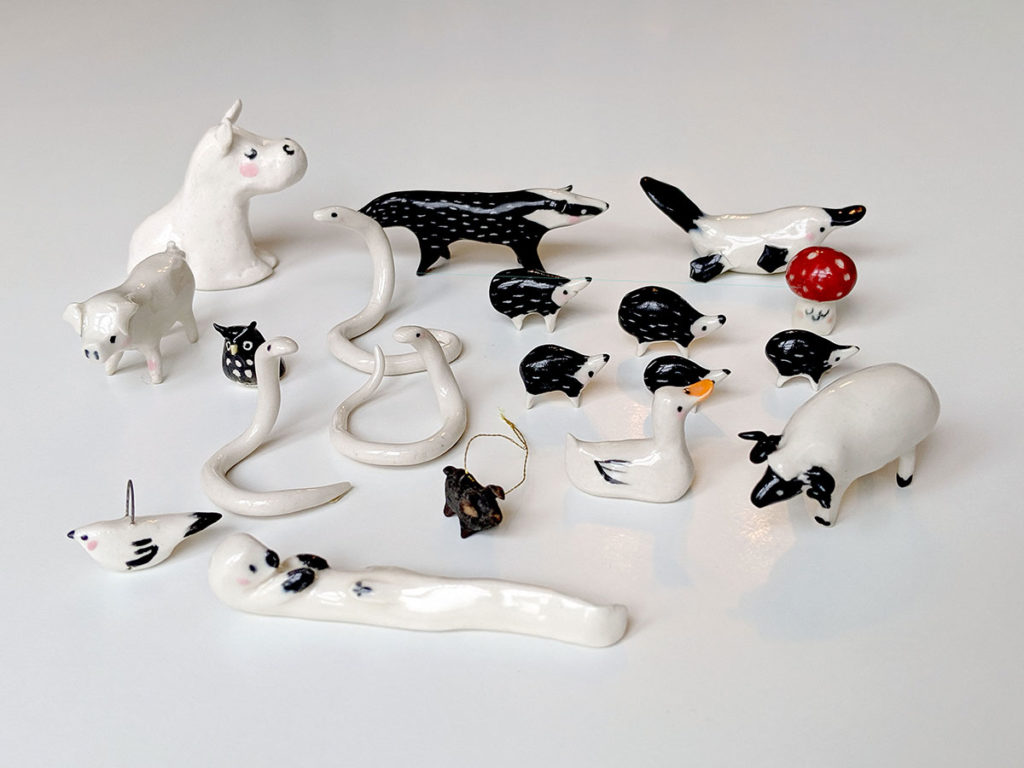 Clay animals as jewelry
Many clay animals can also be a piece of porcelain jewelry. In that case, I often use noble materials for décor such as fine gold highlights, mother of pearl or white gold patterns. The porcelain jewelry will be both cute and precious. Like the porcelain figurines, each piece of jewelry is 100% handcrafted and truly unique.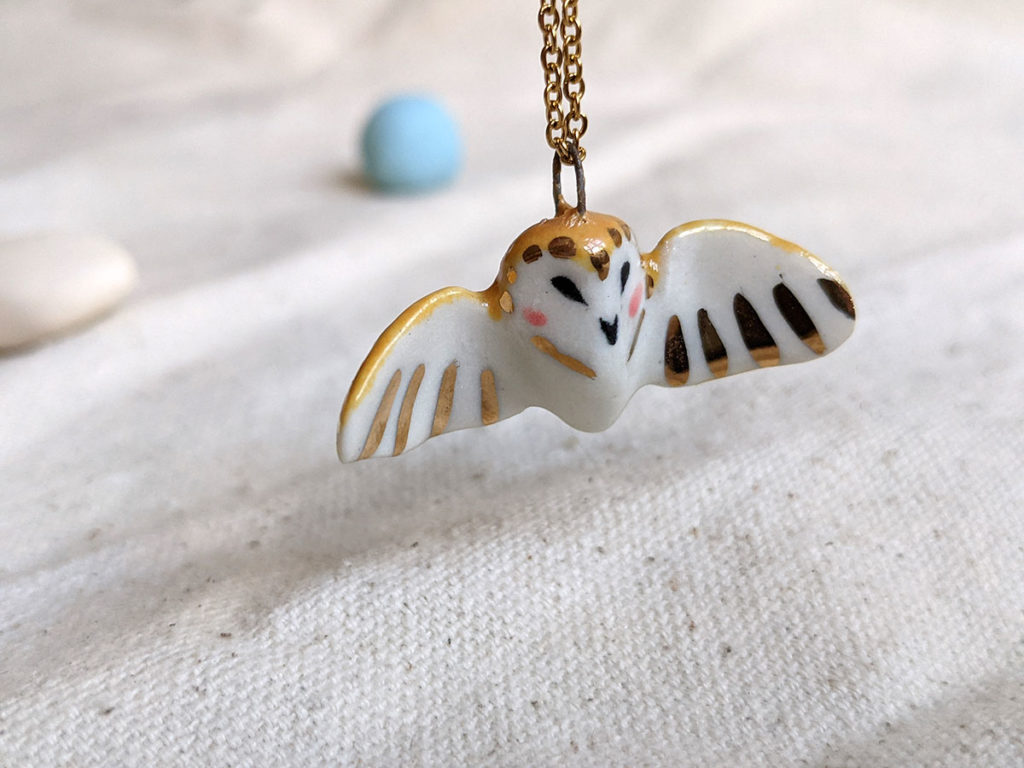 Dishes with Clay Animals
Lastly, I craft small dishes that can be used as jewelry trays. They are often designed with special glazes that give the clay animal a very poetic surrounding. For example a fox sleeping in a starry night sky or a tiny white rat checking out on you from their dawn colored cloud. There are so many possibilities !