What does it mean to be a Sustainable Small Business as a Ceramic Artist ? It means that I care. As much as I know that individual guilt doesn't make much for the climate and environment, I'm not going to sit on my hands. I need my business to be aligned with my values. And here's how I do it.
First, what does sustainability means ? It means that I will do everything I can to run my small business while having the least environmental impact and be good to society at the same time.
1 – The things I cannot change : power, clay, shipping
Clean Energy from Hydroelectricity
As a sustainable small business in Montréal, there are things I cannot change and have no power upon. I need an electric kiln, that uses energy – fortunately I'm in Canada and specifically Québec where power comes from hydroelectricity. Which means the water creates 94%. of our power. It's one of the cleanest ways to do it, and one of the cheapest too.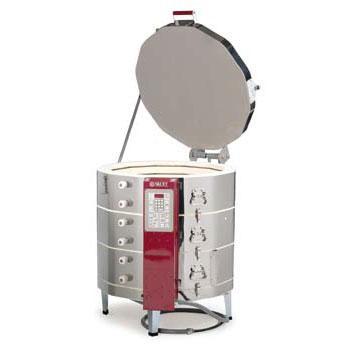 Clay provenance and use
Another huge thing is clay, which comes from clay mines. I do my best by selecting Canadian materials. In order to make things better, I recycle clay. This means that each and every scrap of clay left from sculpting or throwing gets recycled. I wrote a piece about how I recycle clay.

After ceramics are fired, unfortunately they are not easily recycled. That's why I try and avoid firing wobbly or imperfect pieces. I ensure a high success rate for my pieces, that way I have very few pieces that are not usable.
When a piece is less than perfect, I do not throw it away unless its really bad or not functional. I either gift it to a loved one, use it in my home or, if it's nice enough, put it for sale as seconds for a fraction of the price. This helps keep my shelves clear and hopefully gives someone the opportunity to get a piece of art at a friendlier cost.
Shipping Sustainability
Last but not least, transport. I ship worldwide. I use Canada Post as I believe this public service is the most sustainable there is, instead of a private company like Fedex or UPS.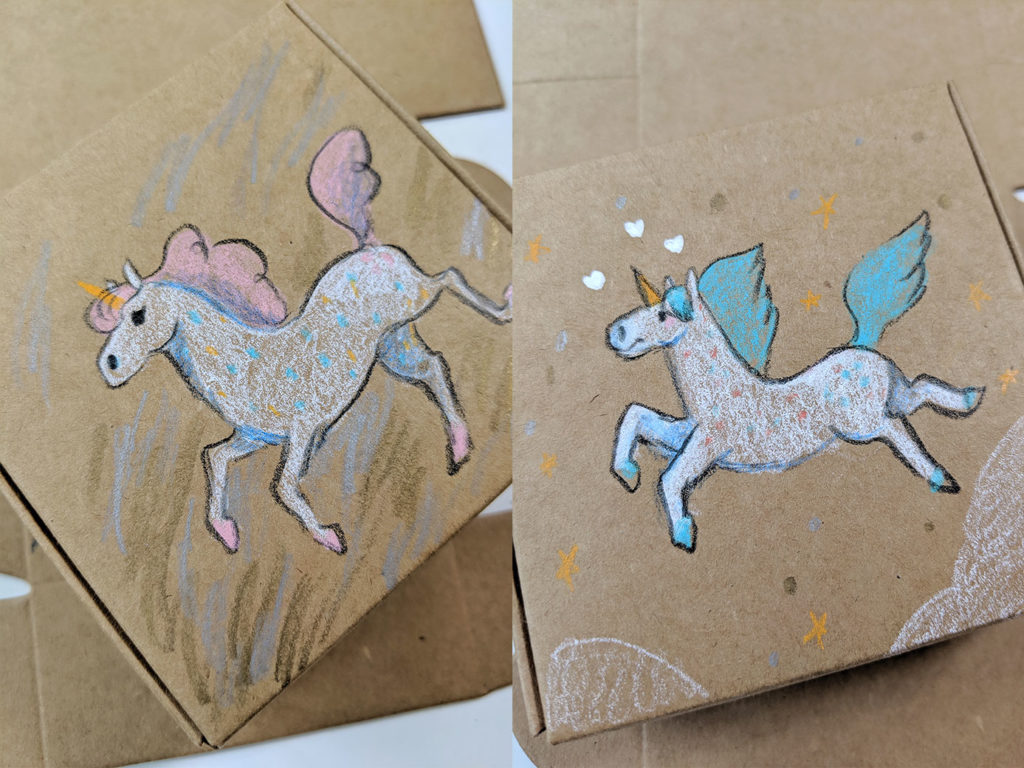 2 – Things I can work on : packaging and production
Packaging pottery sustainably
My sustainable small business has a 0 plastics policy. When it comes to shipping, I use paper, cardboard, and more paper. I will never buy plastic bubble wrap, ever. I might, in some cases, re-use bubble wrap that was sent to me. In that case, I will encourage you to keep them and re-use them since they're basically forever.
When you get a package by me, you can usually toss it in the compost and use it to grow tomatoes next year.
Boxes can be new or re-used. If re-used, I will do my best to remove the plastic tape and use my own paper tape.
Even my business cards are compostable, recyclable, and without plastic.
Sustainable stickers, prints and goodies
I had stickers printed, and it took a good while because I did not want vinyl stickers. I wanted sturdy paper stickers that were recyclable and compostable. I also make small editions and limited runs so there are limited quantities.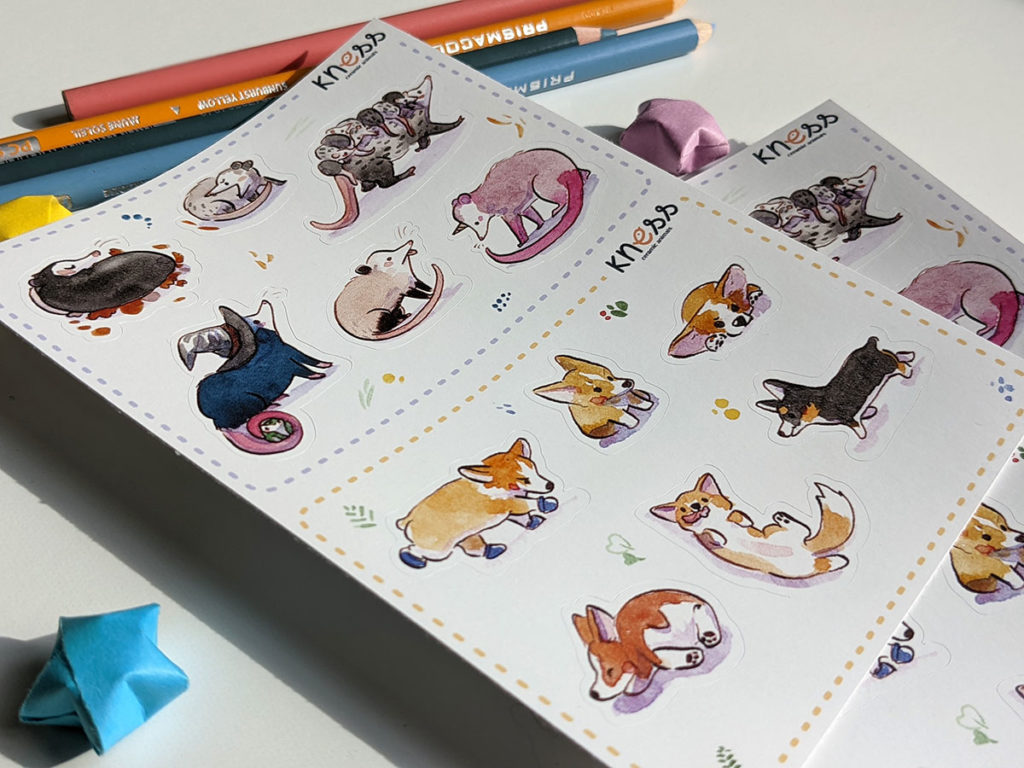 It's the same with pottery and printed materials on Inprnt and Society6. Pottery is handmade, and I never make too many pieces. I just create what I need and / or what is asked. It's pricier but it is more sustainable.
Goodies and art prints are outsourced as I don't have the time and resources to make them myself. They are a more affordable way to get cute art into your home. I picked two print on demand services. One is dedicated to high quality art prints. The other is for goodies like mugs, phone cases and pillows, among a wide variety of products.
Supporting local small businesses
I also work with sustainable small businesses as partners. For example, my friend The Washi Station takes care of all things stationery. They provide me with the washi rolls available and also sells them on a dedicated website. Working with a load of talented independent artists, this is a small local business I love to work with and promote.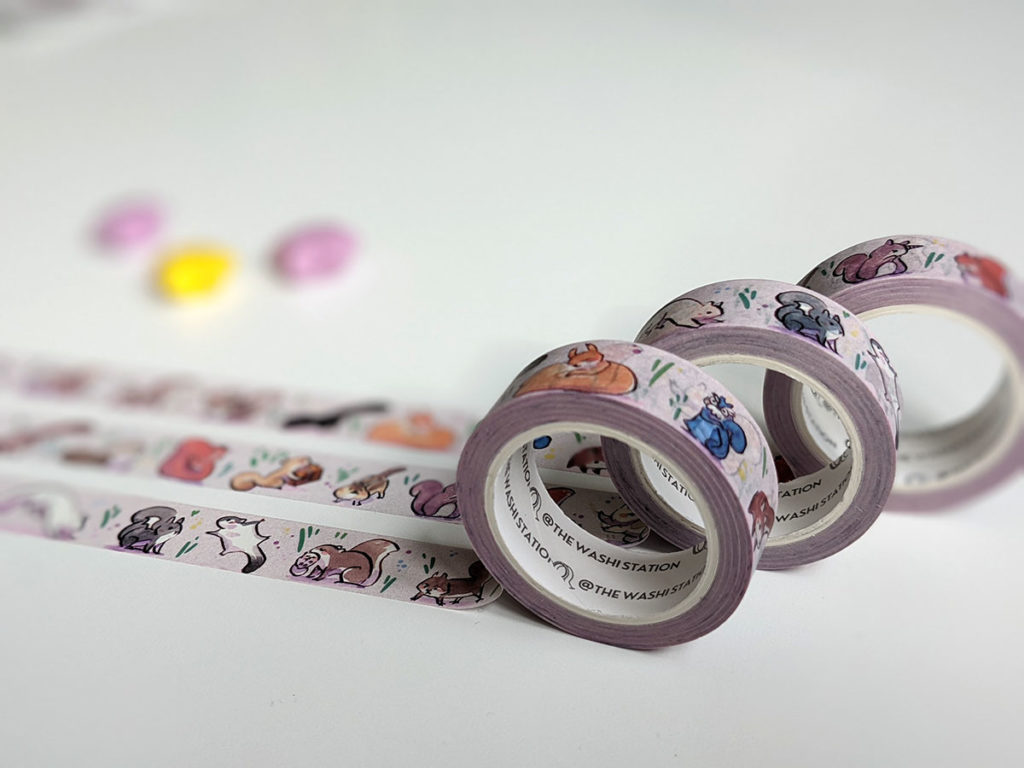 3 – Everyday Sustainability
You know the drill : shop local, use your bike, walk, and I'll do all of this gladly ! I'm not perfect, nobody is, but I do my best. That's what's important.
My work is all about animals. In order to give back, I often make donations to non-profits like wildlife shelters or animal protection organizations. In some cases, I will give work away and ask my customer to give what they deem fair to the non-profit of their choice in my name. That's what we did with the Get Out Alive beaver pin for example.
Here is a list of my favorites non-profits to support and project I've worked for in the past.