I create handmade porcelain jewelry for my clients. Each piece is handcrafted. It represents a family pet or a favorite animal of my customer. A personalized porcelain piece of jewelry is a truly unique gift, lovingly sculpted only for you. Custom made pendants are one of my favorite pieces to make and they're often in demand. If there's no time – an order takes 4 to 12 weeks to make – or if the commissions are closed, you can still check out the available porcelain jewelry pieces in the shop. They are one of a kind pieces that I make following my inspiration, one might just be the perfect fit for you. I also sculpt porcelain pet portraits.
Here are some examples of personalized handmade porcelain jewelry from the past few months. Cat, dog or birds, I have shaped several pendants after your dear companions. Whether this is a gift from you to yourself or for a dear one, each of these pendants is as unique as it is durable. And, if you like love stories, you'll want to know everything about wedding pendants that i made earlier this year.
Porcelain cat pendants
Cat lovers, wouldn't you like to keep a small sculpture of your dearest friend close to your heart ? Porcelain is hypoallergenic and very resistant. Porcelain jewelry is sold without a chain, so you can chose the cord and material you'd like to use with a custom made pendant. Colored steel chains are sold separately if required.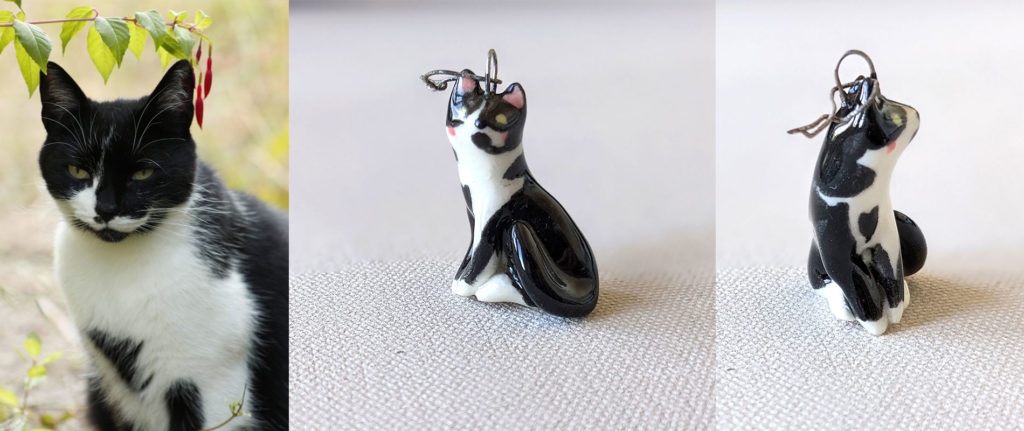 An original and lasting jewelry piece
For Jade, details mattered a lot. So I made her cat portrait pendant the closest looking to her cat's coat, including the little spot in the inside of the leg and the white tip of the tail. For a piece that you'll be able to pass on to your children and grand children, getting it right is an important part of my job.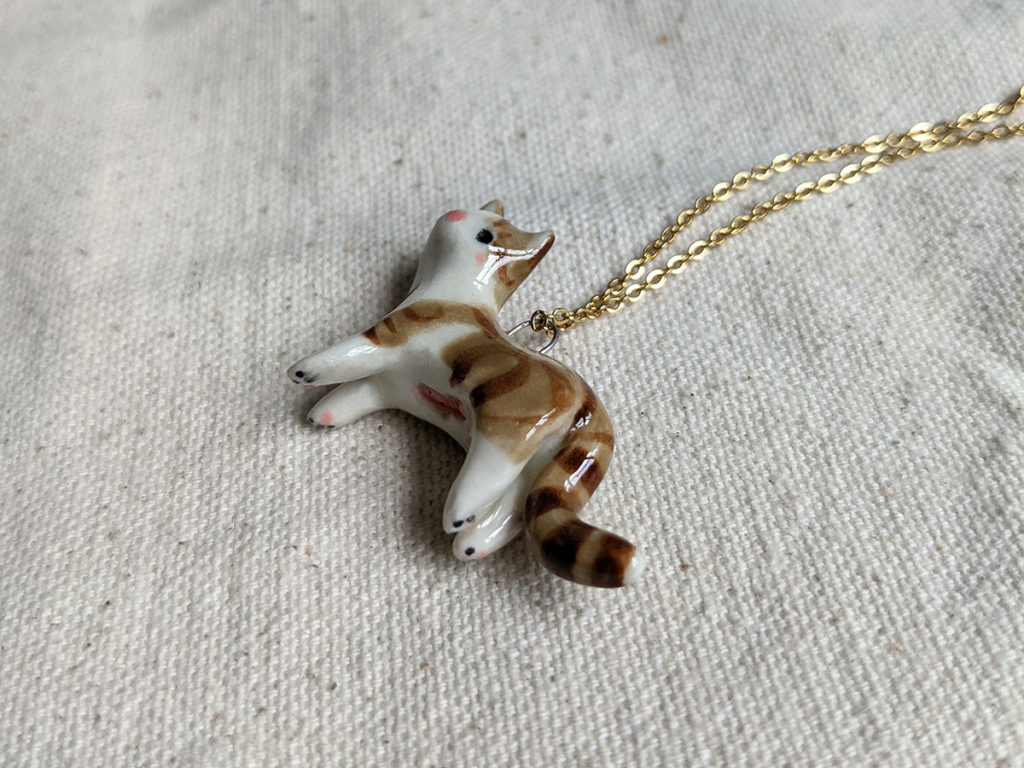 Custom made dog porcelain jewelry
Dogs are also in the spotlight! To celebrate your loyal companion or a departed best friend, I create personalized jewelry featuring all dog breeds. Malinois, bichon, poodle or crossbreeds: I always try to express their personality through these few grams of clay and pigments.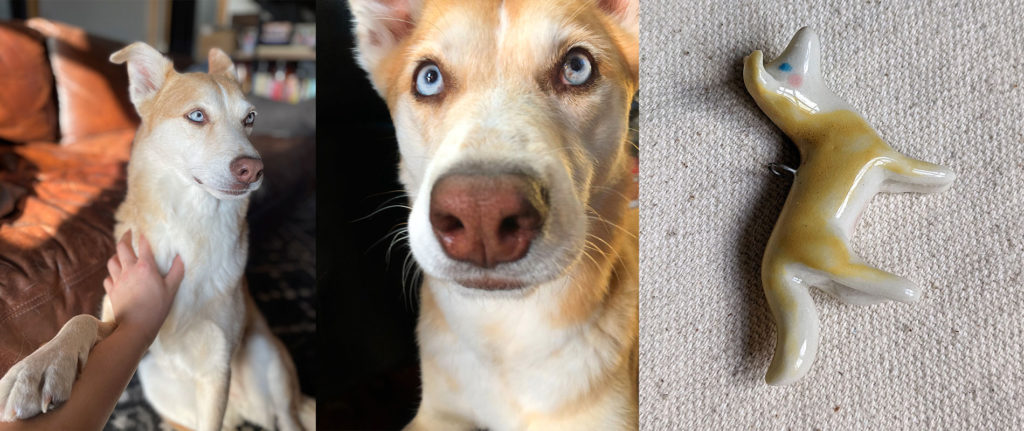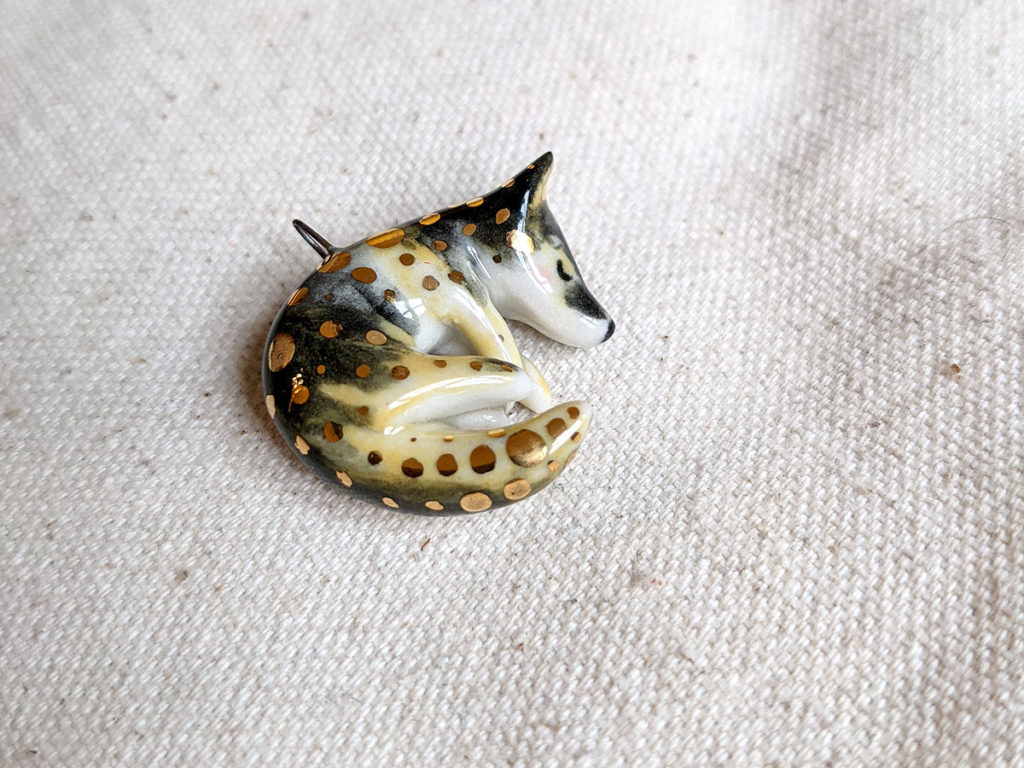 Porcelain bird pendants
Birds, whether parrots or wild birds, are also perfect for personalized jewelry. I created several parrots for their families and some wild birds. In particular the hoopoe, Anne-Karine's favorite bird.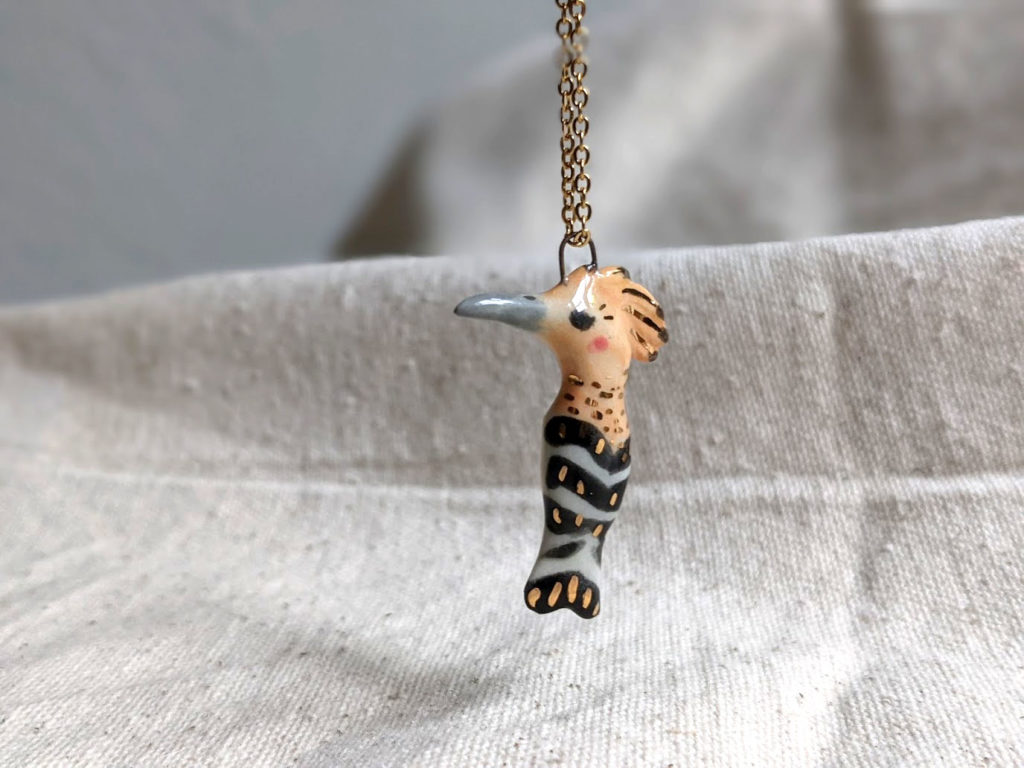 Parrots are adorned with gold, silver and mother-of-pearl on their shimmering colors for even more colorful personalized jewelry.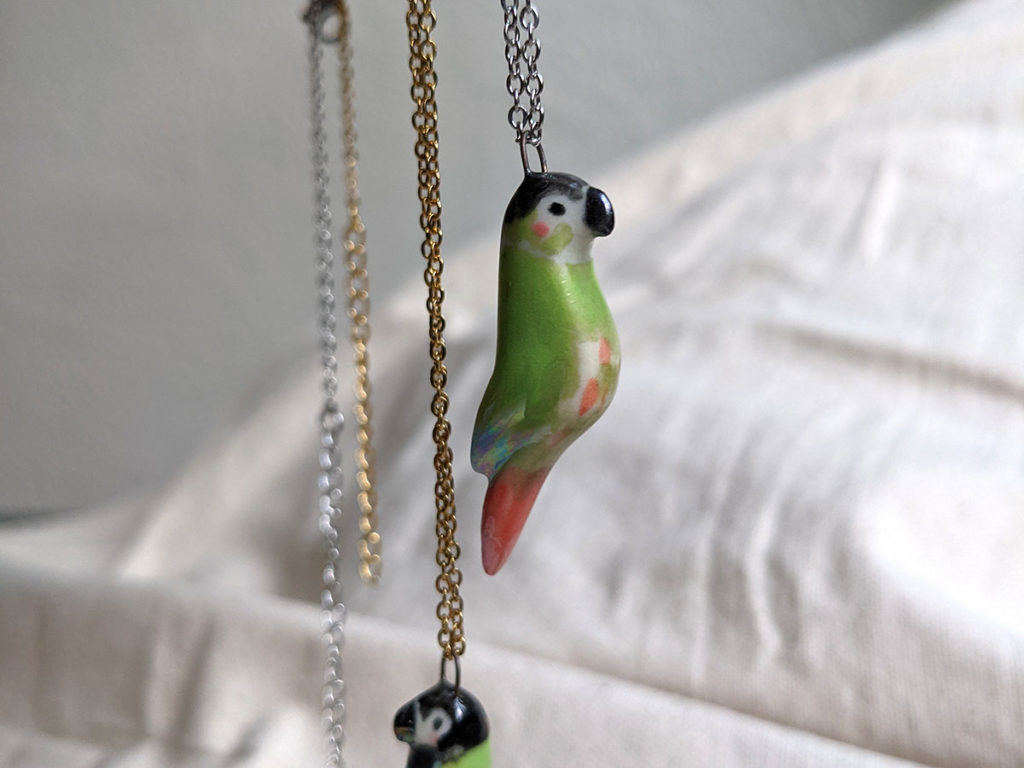 Custom made porcelain jewelry: a unique gift
Personalized jewelry is a unique gift, and porcelain is one of the most durable materials there is. It is fragile in case of shocks, but I work on the shapes and ties in order to create pieces that are both elegant and sturdy. Touches of yellow gold, white gold or pearl adds even more shine to already very special pieces of jewelry.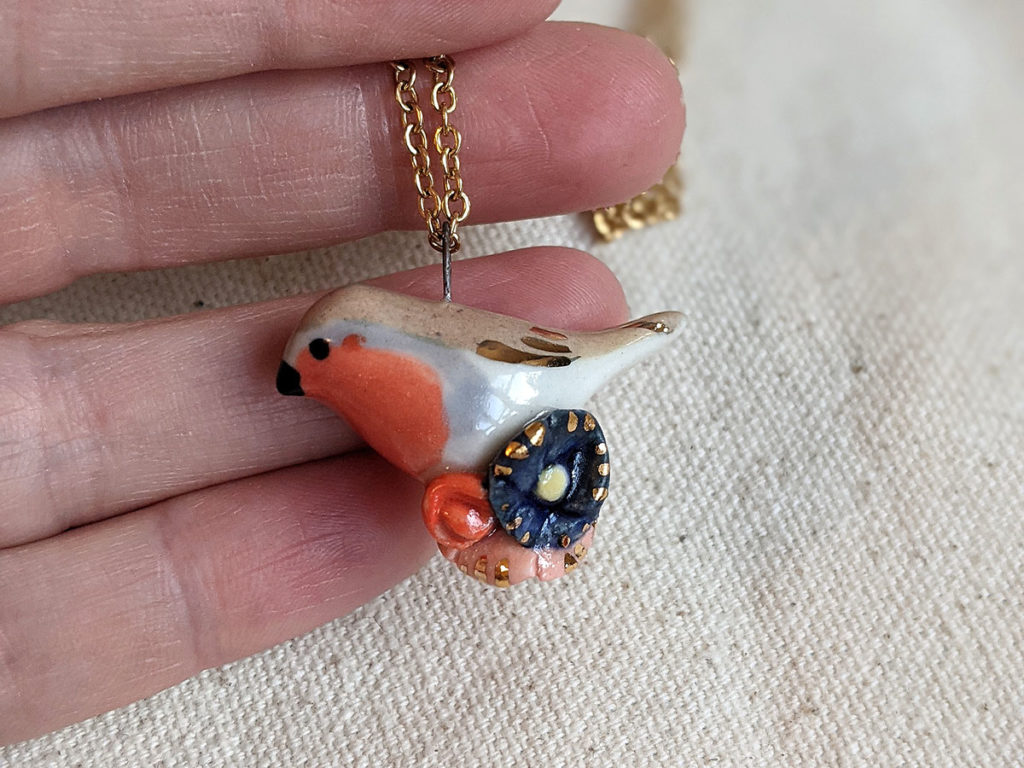 Ordering Custom handmade ceramics pendants
For more information about handmade porcelain jewelry orders, you can visit the custom order page. It contains all the necessary information and a price table. Orders are not always opened since I am often booked. Each piece of jewelry takes time and special care, so I take a limited number of orders each month. The good news is that I open a commission round as soon as I finish and ship the previous one. To be notified of the next commission round, feel free to join in on the mailing list !
One last thing about handmade clay jewelry
Did I mention each piece comes in an illustrated box, made especially for the occasion ? Here's a very special piece of a bunny and opossum intertwined.